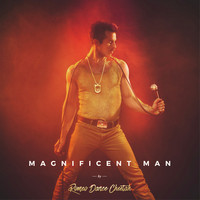 Magnificent Man is a wildly inventive, wacky musical circus. Hailing from small town Midwestern America, his story is almost archetypically American. His youth is the story of a young imagination responding to the allure of Freddie Mercury and Michael Jackson and making his own homemade music videos as another avenue of self expression. He pursued higher education in filmmaking and earned a degree in production from the University of Iowa. The knowledge he gleaned from his own filming endeavors and time in school led to Cheetah creating sketch comedy and music videos for his music projects of the moment while garnering a substantial following despite his independent status. He's made some important appearances on national television shows like America's Got Talent and such appearances have, naturally, only heightened his profile. Some might say a artistic vision like this doesn't have much longevity, but a close listen to the nine songs on Magnificent Man shows a subtle intelligence capable of crafting sharp satire that nonetheless makes a personal statement of sorts.
He opens with the title song and its every bit as boisterous and brash as you'd expect. Despite the comedic intent, Cheetah's musical turns are often unpredictable and keep you guessing. He's working here in a firm rock style and the accompanying instrumentation, never trying to remake the wheel, nevertheless has a lot of punch and plays just the right amount for the song's purposes. The song runs a hair too long, perhaps, to support its comedic conceits, but Cheetah keeps things fun throughout. "35 Year Olds Dancin'" has some breezy punk rock energy and Cheetah has to dig more into the groove for this vocal instead of letting his voice take full flight like it does on the first song. "35 Year Olds Dancin'" is gently mocking without ever veering into mean-spiritedness and has an undeniable commercial sound. The stomping track "The Air Guitar Song" milks a basketful of hard/arena rock clichés dry and has an appropriately humorous vocal The bawdy and loopy sense of humor informing the track is put over quite well within the music and it makes for one of the album's more enjoyable tracks.
"Porcupine Love" recalls the near punk rock energy we heard in the earlier "35 Year Olds Damcin'", but it's even leaner and a little more raucous. The backing vocals and bass performance are particular highlights of this track. Romeo Dance Cheetah indulges in some satisfying theatricality with the song "Gone With the Wind" and gives us his slow burn version of the blues with a genuinely emotive vocal performance. The acoustic guitar threaded just below the surface of the mix is an especially tasty component of the release. Acoustic guitars open "1970's Disco King" before electric guitar and drums kick open the door and carry the tune to another level. The finale "Live the Dream" abandons the album's comedic trappings in favor of something much more intimate and personal. It's a performance that elicits one of Cheetah's finest vocals though some may find themselves wishing the album's production left his voice naked, unadorned. No matter though. It's a beautifully wrought finale and brings the album to a memorable conclusion exploring another side of his artistic character while still clearly invoking his well defined style.
FACEBOOK: https://www.facebook.com/dancecheetah/videos/1268765133214620/
Jason Hillenburg