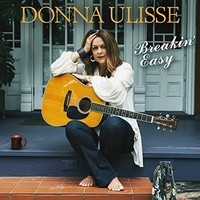 Donna Ulisse's new release from Mountain Home Music Company, Breakin' Easy, features a dozen songs from the reigning IBMA Songwriter of the Year and brings a new found synthesis to her long standing style of mixing modern and traditional bluegrass music tropes with gospel and country. The songs come across as intensely personal statements Ulisse proves capable of transforming into genuinely entertaining material. The album is produced by bluegrass legend Doyle Lawson and brings a level of expertise and experience to the final result that no one else could have. It is a notable collaboration that, arguably, brings together two of the most creative forces in roots music together on a wide-ranging and deeply felt production. The songwriting has the sort of depth that many aspire to but few rarely explore. Breakin' Easy sounds easy, each song seemingly coming together naturally and with nary a hiccup, but any discerning listener will realize the extent of the needed talent and hard work to make it sound so effortless.
URL: http://www.donnaulisse.com/
"Without Trouble Please" gets Breakin' Easy off to a rousingly positive start with its brisk tempo and glittering melodicism of its instrumental weave. Ulisse definitely demonstrates why she has a voice so adept for either bluegrass or traditional country music and simply glides through these verses, but really hits her stride on the first chorus and every following refrain. "Drive This Cold Out of Me" is bereft in the face of a failed love and allows Ulisse to explore more of her transformative atmospheric talents. The care she takes with phrase and the natural timber of her voice gives an additionally wrenching quality to performances like these. The pure country singer in Ulisse comes out on "A Little Past Lonely" and the harmony vocals for the payoff moment are an extra shot of a good thing. This song has so many satisfying, if predictable, turns that it isn't difficult to be enchanted by its beauty in a world where few songs like this are being written for modern audiences.
The shuffle tempo of "We Are Strong" has some more impressive vocal harmonies, an uplifting lyrical message, and a brightly hued musical arrangement that picks listeners up and carries them along from the first notes. There's some clever songwriting that comes with "I'm in a Hurry to Go Nowhere" and the playfulness of its language likely conceals the desperation and despair lurking just below the sarcasm. The song has a little bit of a grittier feel than earlier tracks on Breakin' Easy and it's likely the stronger shot of blues influences that carries it over that line stylistically. Breakin' Easy ends with "We've Got This Love Thing Figured Out" and one cannot help but applaud her decision to close the release on such a vigorously uplifting finale. With nine fine prio albums to her credit, Donna's debut for Mountain Home Music Company is going to stand for some time to come as one of the seminal modern releases in this style. Breakin' Easy is a paean of sorts to Ulisse's love for country and bluegrass, but it's an entertaining and uniquely personal statement as well.
I-TUNES: https://itunes.apple.com/us/album/breakin-easy/id1263182124
Jason Hillenburg