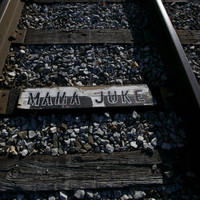 Mama Juke's debut album, is not your typical album release but a live album release titled "Mama Juke Live At Unit J". So while you are getting original music by them, it is done in a live setting as opposed to a non-live atmosphere type of set up. This being not a bad thing at all, as most live album releases by numerous artists or bands can be quite good or bad, a hit or miss if you will. In the case of Mama Juke's live release it is standing on the middle ground, of right in the middle type of release with the appeal to boot.
That said though, the album opens up with a little number titled "Winding Wheel", a track of feeling mixing in the styling's to that of bluegrass, blues, classic country, folk, rock, soul, early hard rock, with some jump blues of the New Orleans meets New York City feel. Hence why you get the picture of a country folk act with a delivery unlike any other, that keeps their style of tunes very upbeat. "Ticket To Ride", a cover tune, is another little number that keeps the beats trailing right along, as the music is so catching and upbeat, that it could only sustain you for so long, before you find yourself tapping your feet to the beat! "Pay No Mind" and "Once I Was", go so well together, it is hard not to believe, that the two work out for what they are as tracks. Their melodies and harmonics being so in tune with one another, the tracks sound so much alike, ever so slightly, it makes the music very wholesome and unique.
https://mamajuke.bandcamp.com/album/mama-juke-live-at-unit-j
Really pretty much all of the tracks that stand out the most off this live release. As the other material is just as fine and dandy as possible, but more or less, sounding a lot of the same. Their music is indeed as said, very catching and upbeat, nothing beats country with folk really. It has that flare that kicks things up a notch or two, really embracing the whole lot, as one full swing of attitude! Mama Juke's abilities as creators of music, is very well focused, and captures the essence that is their uniqueness with music.
Surely to be certain that this live album of a release, really showcases how one would experience Mama Juke and company in a real life setting, when attending one of their performances. It going without saying that you would most likely, have a lot of fun, with a good old time at that. If not, then perhaps Mama Juke's style is not for you, but more of a laid back type of source material, that will keep you entertained to a point.
All in all though Mama Juke's "Mama Juke Live At Unit J", is an album of sorts, that takes you on an experience of a live performance, that will keep the music bouncing, and entertaining at the fullest content possible. If it does not, then it will do the trick with a listen or two if not more so than that, to get the groove kicking.
https://www.facebook.com/MAMABEMUSIC
By: Natalie Perez