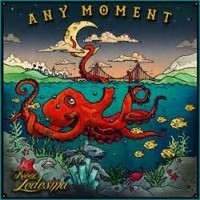 Putting the spotlight directly on the wonderful genre of Reggae, Robert Ledesma looks to make a big impact and take the music to another level. Reggae artists and songs simply aren't tearin' up the U.S. charts today but Ledesma hopes to change that with his debut album titled 'Any Moment'. The record has plenty of cheery, Caribbean vibes but mixed in with positive, smart and socially-conscious lyrics that are meant to inspire a listener. When you hear Robert Ledesma and 'Any Moment', one might think that this guy lives on some remote, tropical island but that is not the case at all. So, rule of thumb to never assume holds up true here. Actually, Ledesma is a solo artist based in the San Francisco Bay Area which may come as a surprise to some. But make no mistake; the true Reggae roots and flavor are present and well-represented on all 13 tracks.
The album starts up with a feel-good battle of life where you just have to do it "Right Now". Robert encourages US to live life to the fullest "before the world comes crashing down", which doesn't sound so bad to me. Rolling along, "By My Side" is the next song and you will experience a smooth jam & groove that hooks you right in from the start. Come one and come all to the fun-filled fiesta on "Llego el Dia" and the party continues on track 5, "Thank You", where a celebration of life is happening through music. Ledesma stresses to do you and only you while not letting anyone or anything get in your way on track 7, "Can't Hold Me Down". You'll be moving along with ease on "Running from Your Love" and then get real and never quit on "Seek the Truth". Robert Ledesma will have you proclaiming that we are all ONE on "You Know We All Relate" followed up with a desire to speak your mind on the closing number "Knock Down My Door". The instrumentation and production here was fresh and lively and I found the horn section to be a pure delight. And as a former Alto Saxophone player, I personally connected with the slick sounds of the sexy sax heard throughout the album.
The collection of songs here is a fruitful blend of true Reggae and true-to-life characteristics. 'Any Moment' will have the listener singin' & hummin' along while bouncin' to the island beat. With so many catchy hooks from beginning to end, this CD offers up a nonstop extravaganza that is refreshing to hear. With so many generic sounds and copycat artists of Today, it's a nice change of pace to get something different and outside of the norm. Robert is urging you to never settle for less and to always give it your all, which is such a motivational message. Robert Ledesma proves to be a respectable Reggae artist who is humanizing music and making a difference through song & dance. 'Any Moment' now the Reggae culture will come alive here in the states and when it does artists like Robert Ledesma will be riding the wave until the sun goes down.
By Jimmy Rae (jrae2@att.net)