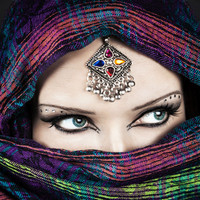 Sarantos dives headfirst into an eclectic energy with the playful pop of "GYspy JaZZ". From the spelling to the arrangement everything wonders works. Within the entire piece Sarantos weaves together so many different styles from electro to jazz to ragtime to almost a theatrical cabaret. By far the true highlight are the creative lyrics which have a loose, almost poetic quality to them as Sarantos delivers them with absolute gusto. Rushing by in a glorious blur nothing ever slows down. Instead Sarantos draws from so many great sources, ranging from Antonio Carlos Jobim's fluency on the guitar to electronica flourishes that recall Telefon Tel Aviv's soulful stylish work.
Right from the get go, Sarantos settles into a delightful groove. Instruments swirl around in a glorious colorful mix. Percussion opts for a light touch, deftly exploring a wide variety of terrain. By choosing such a delicate balance a great deal of attention is place upon Sarantos with his rather passionate vocal delivery. Layer upon layer helps the track grow in a naturalistic fashion. Throughout the journey the song becomes ever more insistent, incorporating more and more into the mix. Even as Sarantos zooms out, allowing for more textures to emerge he retains that light limber quality. Towards the latter half of the piece Sarantos lets the track become a little dreamier as everything perfect comes together into a glorious sea of sound.
https://itunes.apple.com/us/album/gyspy-jazz-single/id1291796781
With "GYspy JaZZ" Sarantos opts for a classic cool style, one that feels warm, welcoming and endless inventive.
By – Beachsloth