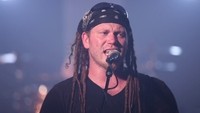 Nick Dakota has achieved a notable degree of success on the back of his recent full length album Vision with his combination of genuine star power, musical skills, and songwriting contributions from top shelf Nashville songwriters. The Michigan based performer is gathering material for his next album, but he's still promoting Vision with every bit as well passion and investment in its success as he displayed on the day of its release. The virtual all-star cast he's assembled around him to pull off songs like "Sledgehammer" are among the best players in Nashville and the energy filmed in the song's video embodies quite well what we hear in the music. Dakota's confidence and effortless charisma comes across too and the musicians accompanying him in the video give their all in complementary performances. "Sledgehammer" proves to be an excellent choice for single status.
The banjo and mouth percussion opening the song sets the stage for something much different than the listener ends up with, but Dakota's song does a surprisingly good job of retaining some of that traditional edge throughout the whole track. The presence of backing vocalists further sweetens the immensely charismatic sound of Dakota's own voice and the backing players build to the song's crescendos with skill and a steady hand. The hint of traditional influences underscoring the arrangement perfectly complements the brash guitars and muscular drumming. Dakota's vocal delivery tops it all off with a singing performances that's full of attitude, but quite likable and in tune with the song's demands.
The video is apparently filmed on a professional sound stage, but evocative lighting takes what might otherwise be a mundane, non-descript environment and makes it intensely theatrical. The body language and commitment that everyone involved, including Dakota, brings to this video makes it all the more memorable – they throw themselves into the moment with unbridled physicality and make viewers a part of the performative experience. The editing style of the video is common for the genre. It relies on a lot of jump cuts to help further embody the energy in Dakota's music and they are well timed rather than being machine-gunned past the viewer. There's an obviously artful and professional vision shaping Nick Dakota's first video and it results in an enormously powerful promotional tool for this great track and provides visual embodiment of the vibrancy they encounter when listening to the entirety of Vision.
"Sledgehammer" comes late in the running order on Vision, but it rates among the album's most satisfying cuts on its second half and presents obvious virtues as a single. Nick Dakota puts it all over with veteran confidence and the self-assurance comes through, as well, in the music that gives it much of its needed punch. There's more to come from this guy, but there's no question his initial shot into the music world is a collection of home run shots.
URL: https://www.nickdakotaofficial.com/music
Jason Hillenburg