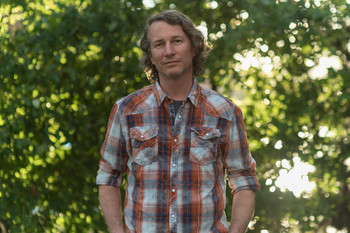 Richmond, VA-based Americana-folk/roots-rock singer-songwriter Rob Williams is set to release his third album, An Hour Before Daylight, on October 27, 2017. His sound is rough but warm, full of turns and twists through a soundscape of folk, rootsy rock, Americana twang, and Williams' original touches, unbound by genre.
Williams' stories lead listeners to places that feel familiar and timeless. Places that stretch as high as hope can go ("Icarus Dreamt") or just a whisper away from someone who's spent too many sad nights on that barstool next to yours ("Broken"). And not just to those places but also to the triumphs and, yes, the failures of people who lived there or were just passing through. Some of them are beyond our reach — the miners who perished underground in "Butte, Montana, 1885," an ancestor from impossibly long ago in "Lucy, You're Lovely," ourselves as children in "Hide And Seek." Yet Williams makes the past a living presence, its lessons undimmed by time.
"This album is much more about history than anything I've ever done," Williams says. "People who love history have that skill of relating the past to the present, whether in how they see the world or how they write about it in music or words. It becomes easier to immerse yourself in a character and become that character in a song."
http://www.robwilliamsacoustic.com/
What inspired this song? Is it a love letter to the state of North Carolina, or to your parents, or celebrating your history? (Or maybe all three?)
I'm a first-generation Virginian. Just about everyone else in my family on both sides are from North Carolina, and I've always felt very much at home there. So much of this song is accurate (my father was a preacher and my mother was a teacher), though I did take a few liberties stretching the truth to make the song work (my mom taught 5th grade mostly, but I needed two syllables and 7th sounded better in the song). I think the song is a combination of a thank you to my parents for being great parents, and also to NC for being like a second home.
Any great stories about the recording process for this particular song? How was it having it all come together?
My sister, Leslie, played lead guitar on the album and on this particular song she added the guitar solo as an overdub. The day she was going to record it, we sat down together and she played me some ideas and asked for my thoughts. She's such a good player and a tasteful player, that I told her to play the solo a little sloppier. On one particular take, she stumbled through a riff toward the end of the solo that sounded like it was out of sync with the song. We all thought it was perfect. So, she played it few more times with the tail of the solo dragging on a bit long and maybe a little out of time. I think it sounds really cool.
Do you have a favorite town or city in North Carolina? Why is it your favorite?
More and more, I travel and play shows in the Western part of the state—Asheville, Brevard, Hendersonville. There is such a great music and arts community in those places. I also love the Raleigh, Durham, Chapel Hill area. And hands down, my favorite venue in NC, and maybe in the country, is The Evening Muse in Charlotte. I love the vibe and the people there.
Have you performed this song live at all? If so, what has the audience reaction been to it?
It's not unusual for someone to come up to me a show and tell me their own connection to NC. I was playing in Massachusetts once, and a woman asked me about the places my family was from in NC. When I told her the name of the tiny town my mom is from, she said, "Oh, I grew up there." Considering that the total population of the town is in the hundreds, the odds of meeting this person were long at best. As we talked a bit, we discovered that her mother was one of my mother's teachers. Small and interesting world.
If you could use only three words to describe your music, what three words would you use?
Energy, Visual, History
What is coming next for Rob Williams?
In the past, I've toured exclusively as a solo artist. With the release of this new album, I am going to travel more with a bass player and we'll perform as a duo. I'm also working to get the band to play more shows. So far, the band is only playing in and around Richmond. I think the band that's playing with me now is fantastic, and I'd like to get the whole group out on the road.
Photo Credit: Vivian Wang