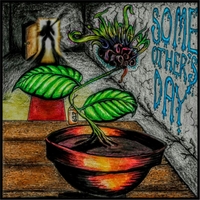 SixTwoSeven is a rock band out of Gig Harbor, Washington. They're out with a new EP called Some Other's Day. SixTwoSeven compares themselves right off the bat with stellar bands such as the Foo Fighters, Muse, Weezer, and Radiohead- a tall order, to say the least. The band is made up of illfunk (vocals), Dave Cook (drums), Mike Knapp (bass), Jason Bilderback (lead guitar), and Matt Bilderback (keyboards and backup vocals).
While illfunk's voice isn't the strongest, it does fit well with SixTwoSeven's sound. Everything works together seamlessly and you can tell that the members know what they're doing- Jason Bilderback's work on the guitar is likely my favorite component.
"Wreckless Soul" shows you right away that they weren't kidding about being inspired by Foo Fighters. The similarities are a little disconcerting, even, which isn't exactly what you want. The guitar is the star of this song, and while the lyrics aren't amazing, they're still good enough to be worth paying attention to.
"Joshua's Song" is the slowest track on Some Other's Day, which isn't saying that much. The lyrics are great and I love the drums in this song especially. It's solid all around and I like illfunk's voice the most in this song. It evokes the most emotion from me in terms of the story- regret and sadness are strong and you can hear it clearly in the vocals.
"Top Of The World" is my favorite song on the EP. It has my favorite lyrics by far and it's a definite earworm. Everyone's at the top of their game in this song- guitar, drums, bass, and vocals are all top notch. There's a sense of resigned incredulity in the song. Nothing went right, nothing ever goes right. My favorite lyrics from this song are, "Just when I'm thinking I'm on top of the world, next thing you know I'm face down on the floor / Just when I'm thinking like I'm saving the world, next thing you know I'm to blame for a war." Simple but the point gets across, and you can feel the frustration in illfunk's voice.
"One Single Night" was a strong contender for favorite track, and it just narrowly lost out to "Top Of The World". SixTwoSeven is incredibly talented "I'm here to tell you there's no rest for the wicked / I couldn't spend one night in your head." I'm not sure why that stuck out to me so much, but I love it. This song is the heaviest one on the EP and it sounds fantastic.
Overall, I really like Some Other's Day. There's nothing profound or cutting edge in their approach, but sometimes you just want good back to basics rock music, and that's what they deliver. While I was a little disappointed at not being able to see where the inspiration from other bands (outside of Foo Fighters… and Weezer, if you squint), it was still an enjoyable EP. I'd suggest SixTwoSeven to anyone who is a bare bones rock fan.
Victoria Patterson