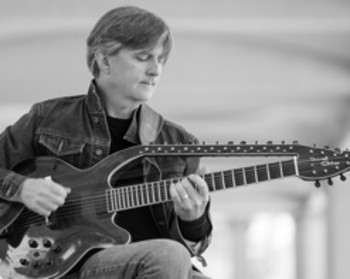 Earlier this year we brought you "Western Sky", a relaxing and deeply powerful video from St. Louis-based guitarist and composer Todd Mosby, and now we're delighted to be working with him once again to share the "Moon Song" video with you. After attending Westminster College in Salt Lake City, he studied composition, guitar, and improvisation at Berklee College of Music in Boston, then he received a Master of Music degree at Webster U.
http://www.toddmosbymusic.com/
Todd Mosby is an acclaimed and groundbreaking guitarist, composer, and improviser, and with his touring ensemble, New Horizons Ensemble, delivers a live concert that engages audiences through a transformative musical expedition. He says, "I compose music to share with others, musicians and audiences alike, so they might in turn express an emotional, heartfelt connection to their environment, personal well being and others." This ensemble has toured from NYC to San Fransisco and is touring the midwest in fall 2017.
His music is an enthralling acoustic blend of new age, jazz, folk, world and new age music, exemplified on his latest album On Eagle Mountain (produced by Windham Hill Records founder, Will Ackerman), which entered at number 3 on the worldwide ZMR charts and received 2 ZMR nominations. But Todd Mosby is well-studied and practiced in other forms of music: he's spent years thoroughly immersing himself in the world of Indian music with his guruji Imrat Khan and has made history as the only guitarist to become a member of the famed Imdad Khani Gharana, India's royal family of sitar musicians with an unbroken chain dating back 500 years. He's a St. Louis favorite, having headlined local jazz festivals and been voted one of the top guitarists by the STL River Front Times readers' poll. Todd Mosby is also a two-time 2016 Global Music Award recipient and was on the 2016 Grammy ballot in three categories.