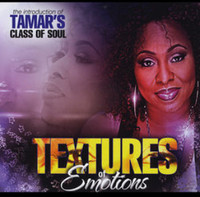 Textures Of Emotions by Tamara's Class Of Soul – is a soothing journey that takes you for a ride she brings with the best of intentions, carrying loads of heart and soul in her songs with great messages. It goes through pop to soul, R&B and spoken word that has a world class appeal. It's very thoughtful yet moving and incredibly enjoyable. This is an album from 2016 that hopefully carves out a great future for her in an uncertain industry that takes no prisoners. There isn't much else to know about her, including what musicians are used on this release, but it stands on its own two feet, song for song.
"This Is My Heart" is the well-chosen kickstart to the CD, with what sounds like an homage to all-of the soul queens of the 70s, transformed into modern times. It's both strong and relaxed at the same time, with a powerful ambience, balanced by a male love letter style phone message. It's a great way to begin with a mesmerizing track. "You Never Really Wanted Me" is the next track that grabs my ears. There's also a remix later-on in the track list. It's a sassy tune with some cool instrumentation and an overall zen effect. This is not only finger snapping good stuff, her vocals take a huge spotlight.
"I Got Your Back (Track For Track)" is a cool cut with some entry of spoken word about it, which gets featured throughout the whole CD. The lyrics are excellent, and they only get better as it goes. "Just Get Funky With It (Intro to Band)" is a chance for the band to sparkle and shine with some tasty organ flurries and show stopping hooks. I just wish I knew who to credit, as they're all fine musicians. But it's really all about Tamara and her voice, and "Touch So Gentle" is where she fully owns up to it, and at least you can see her guitar player in the video clip for this track. But it's really-only one of the full circle numbers.
I-TUNES: https://itunes.apple.com/us/artist/tamars-class-of-soul/id549993894
There's also "I Cry For You" with its beauty and grace which washes all over you like an ocean of sweet sound. If not the song, then her artistic studio performance of it gets the prize here, for her own vocal prowess. It makes tracks like "Party Time" seem as necessarily playful as they are though, as they're worlds apart in every way. The two couldn't be further from one another and-also be on the same album. That's a good thing that shows the diversity of the songs. In-between them you find more down the line tracks that stick to one formula or another. And that makes for a blend of fireworks that ignite at every turn.
"Struggle To Survive" is one of the shorter tracks, but also one of the coolest little gems on the CD. The spoken word vocals that drop the harsh reality of the lyrics down send a positive message about a negative subject. This is where it gets actively uniting in the lyrics and she does her part in the resistance of war and the insistence of peace. She wants everyone to know that there are both weak and strong people to go around. Things close on another positive note with the spoken word dominated "It's Been A Long Journey" and by the time you've heard it all that is putting it mildly.
Kevin Webber