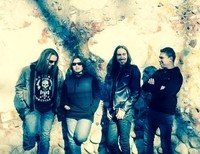 Hence The Noise is a NY based modern metal band which consists of Chandler Mogel on vocals, Rob Russo & Eddie Vandenko on guitars, and featuring Robbie Russo, who is a 13 yr old inspirational prodigy on drums. Rob Russo & Eddie Vandenko have a long history together. They have been collaborating in various bands in the NY club scene ever since they met at a mutual friend's garage in Brooklyn NY in 1989. After a long hiatus from the music scene, they started writing music again and decided to put a band together. Minute With Me – is based around their support for our veterans.
URL: https://www.hencethenoise.com/
These are no musical new comers but the drummer is very young at age 13, so it's a point of focus to begin with. The album kicks off strongly with the title track "Minute With Me" but it's only the beginning. They instantly get beyond it with the much better "The Enemy." It's actually a well written song besides the obviously great playing. A few modern touches are definitely-laced throughout this track. The way to describe it is like going from one weight to the next, going from heavy to heavier and getting better as it goes. That's where the first two tracks wind up successfully contrasting. This track has a strong funk element to it. Getting even heavier with "Scars" brings some fantastic drumming and all kinds of crazy guitars. This is an epic piece of work that hits you upside the head with the right bone crushing chops. The production on this CD could be better, because the material deserves it, but if you pay attention like most metalheads it doesn't matter because it pays off and you get the values when they're there. This track has just-about everything this band are packing. It's dark, it's doomy and it's progressive. And this is where the drummer starts to shine and show why he's on the map.
"The Darkness" is another track worth investigation for its mellow groove which contrasts the situation nicely and keeps you whetted for more. The fuzzy bass that kicks in before the guitar solo takes it over the top from an intermediate to a power ballad. It showcases what they're very good at, which is playing their instruments. But the songwriting here checks out as well. This is followed by a track called "Prisoner Of Time" and they go together like chalk and cheese but it changes up the tempo which makes them both stand out together somehow. It's two epic tracks in unison that are nothing alike.
Other moments include a daring cover of Edwin Starr's "War" and it is far from a straight cover of the classic. They take some bold steps within the original framework of the song without murdering it. This shows more of that funky side of the band which isn't applied in any fake manner. It's an element that is clearly done with the right integrity, and what better track to cover to show it and stretch the envelope. The album deals with protesting war, so it's not out of place for one second with a metal band that can easily play anything outside the box and come out slamming. It's an effort worth the price alone.
FACEBOOK: https://www.facebook.com/HenceTheNoise/
Larry Toering