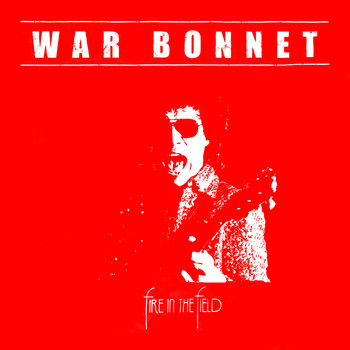 Fire in the Field's drives their impression of rock music to a furious style of heaviness, that pushes the boundaries with the energy, angst, depth and great detail. How much detail is great detail? Well it just so happens that their latest album "War Bonnet", has created such a buzz, that these guys just want the fans and others alike, to feel the movement that their music creates, just as other music has moved the band mates themselves. Guitarist/vocalist Mike Moore goes into detail about the album, inspiration behind their music and lyrical context, as well as future plans in terms of playing shows and much more.
NP: Give a brief history of Fire in the Field's music style, and the members.
There was once a flame. From the flame emerged an angry kid with a guitar and a drummer with a heavy beat and a bassist with a penchant for doing naughty.
NP: How did the band come up with the name Fire in the Field and tell me what does it mean for you?
Witness to a sacrifice of thousands circa late 1990's on a burning plain, with a salty ocean wind in the air seacoast New Hampshire. No stars that night.
NP: What inspires Fire in the Field's music and lyrical writing? Which acts do you take influence from the most when creating your work?
If your soul is burning you must keep it moving by feeding it the right fuel. Which acts? One through three. Sequels are hit or miss.
NP: Which songs off "War Bonnet" have received the single treatment? Did said song also have an accompanying video as well?
Each song stands as a single entity and form a track list together. They've added "digital collections of music or photos" to the definition of the noun "album" in the Webster's Dictionary. Phew.
Stream: https://fireinthefield.bandcamp.com/album/war-bonnet
NP: What is the difference between your latest album "War Bonnet" and the very first records?
We kept this one lean and mean and founded on our trio roots. Which means we left the bluesier numbers for the next record and this one is pure searing rock n' roll in the vein of some of our other tracks people know, "Soledad" , "Stone Hearted Creature" , "Caravan & Hawk" or "Most Evil". A return to form but a surge forward.
NP: Why did you want to go ahead and title this album "War Bonnet"? Who was the member to have a war over not getting to wear the bonnet?
Great question. "War bonnets or headdresses are feathered headgear traditionally worn by male leaders of the American Plains Indian Nations."
NP: Which producer did you decide upon when writing and recording for this album?
We decided upon ourselves.
NP: How would you describe the album's artwork, who was the one to create it?
Nate Forman took a picture of me screaming on stage at an Austin, TX show during SXSW 2017. Ryan Daly, my friend who did the artwork for our 2014 release "Gypsy Tea Room" put the package together. I came up with the concept with someone else. A definite team effort with Ryan doing the heavy lifting.
NP: What's your take on "War Bonnet" as a whole?
Blood curdling into a soul-chasm of life and rock n' roll at a break neck pace hung in bright red light under the black hole riptide.
NP: How about plans for the remainder of this year, what do you have planned?
October 27th – Middle East Upstairs – the War Bonnet release show. We're getting to Worcester, to Burlington, VT – back to our roots in southern, NH…. a fun one with Maine rockers Five of the Eyes who just put out a great record, and a Boston staple, The Shills. We're playing an amazing venue in Southbridge, MA called Starlite. Demetri and Rob over there are two of the coolest cats around and their venue doubles as an art gallery. Everyone should check this place out – https://www.facebook.com/starlitegallery/. It's what every hip spot in Somerville wishes it could be. We play Starlite on Nov. 11 – but just go to our website www.fireinthefieldmusic.com to get all our tour dates.
NP: Where can we listen to your band and where can we buy your stuff?
http://www.fireinthefieldmusic.com
NP: What is it you'd like a listener to remember the most when hearing your music for the first time?
I would never desire someone else to remember anything except what's important in life. In terms of Fire in the Field's new album I can only hope they feel moved because that's what my favorite music does to me.
https://www.facebook.com/fireinthefield
By: Natalie Perez