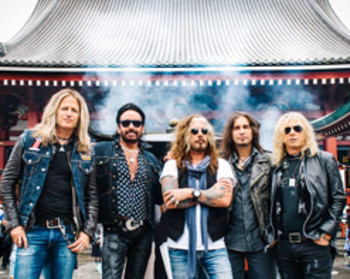 There isn't a more perfect way to celebrate Independence Day than with a classic All American song. "We're An American Band" was originally made famous by Grand Funk Railroad in 1973 and has stood the test of time as an unrivaled anthem for bands looking to climb that red, white, and blue ladder. As the contemporary bearers of the classic rock flag, it's the perfect song for The Dead Daisies to add to their explosive live show. Using the live track from their new Live & Louder album, the band has created an all-senses-on-deck presentation of life on the road with The Dead Daisies.
http://www.thedeaddaisies.com/
Frontman John Corabi explained that they included the song and others in their set list to remind American soldiers stationed abroad of their home country. Since the start of their Live & Louder tour on June 2nd, the band has been tearing it up at festivals across Europe and Asia, finishing off with the Dirty Dozen American tour in August. If the thousands of radio spins this single has already received is any indication, they will be welcomed home with tattooed open arms.
Big cities, all-star baseball teams, the scenic country and open roads, this video reminds us of everything we love about America. Images of these American treasures flash between raw footage of the band's intense live performance. The natural symbiotic relationship between band and fan is seen in it's purest form, each feeding off one another to create a moment that audiences live for.