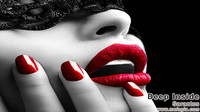 Saranatos delves into a glorious neon-hued dance track with the celebratory "Deep Inside". Full of energy the song serves as the aural equivalent of coffee. Happiness defines it to its very core for the way that Sarantos lets the many layers of sound build-up over the course of the track portrays a giddy tenderness. Melodically rich the way the piece pushes forward courtesy of the infectious, muscular groove. Indeed, Sarantos ensures that all parts of the greater whole work in unison to accurately capture the party atmosphere. The utilization of auto tune adds to the appeal of the piece, allowing the groove to take on an almost elastic groove. EDM anchors "Deep Inside" while Sarantos incorporates elements of pop and dubstep into the mix.
Giddy keys introduce the piece. Fed through a wide variety of filters the song starts off strong. Echo adds to the spaciousness of the track as Sarantos makes everything feel so positively luxurious. Volume serves the sound quite well for the physicality heightens the overall experience. Flourishes flutter about as the song grows in strength, showing off the impressive buildup. Choosing such an approach further emphasizes the undeniable hyperkinetic style of the piece. Bouncing off the walls, the way things unfold indicates a real ear for form, as the melody becomes ever more potent, until the final moment when it all simply slips away.
With "Deep Inside" Sarantos sculpts a pitch-perfect anthem, one whose playful spirit lingers in the mind.
By Beachsloth