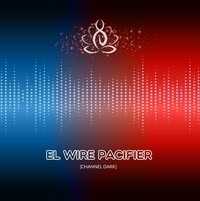 "El Wire Pacifier", by Channel Dark, a moniker to Jonathan Maxwell, who happens to be an electrical engineer by day and a perpetual insomniac by night, has found that the best way to counteract his inability to sleep at night, was to immerse his mind and self into the creation of atmospheric electronica or EDM.
That is what this EP precisely is all about, it is electronic based music or simply EDM electronic dance music ,for those unaware of the symbolism behind it. In other words, it is an EP that takes 6-tracks in which Channel Dark, engulfs himself in, entering the minds of those who hear his creation of tunes that is this music. For instance "Feather", is a given track that does not use any vocalization whatsoever just beats, melodies, and harmonies of music, done in an electronic fashion. If you listened to a track that was done in a remixed way, all techno driven, sounding complete futuristic, that is what this track does. Except it is just the sounds of the music, no vocals or any use of any other line of instrumentation, just the use of what appears to be the keyboard if not turn table or computer tactics to create it all. It is just simply put, very upbeat that you can likely find yourself dancing to it.
Whereas other tracks off this EP like "Don't Care About It", "Thunderbird", and "Where The Monsters Are", take use of the vocal chords, allowing for Channel Dark to embrace his tone of voice, as it is transmitted within the music atmosphere, creating a more developed trace of track, that it becomes more in-depth and fulfilling. All of these are just downright fun and upbeat, they use so many different electronic aspects, it makes the track sound different, every time you hear one of them. That is how this music makes you think and enjoy it.
The rest of the EP is simply more music based material, with lots of beats, having you picture it to be heard within the walls of a club, or even in your own house hold, comforting behind your zone per say. It's really just a douse of music that you can experience and take in as a whole another realm of reality. Channel Dark was really trying to find a way to help himself fall asleep easier so diving into the EDM sense, helped him create not just something original and new to him, but did help him sleep somewhat afterwards.
"El Wire Pacific", is one of those EDM releases that takes it as it is, an EP. It provides you an idea and glimpse into what to expect. That is what you get when hearing Channel Dark. You get that ideal of who he is and what he has created. It is something he has made that will branch out reaching more people who enjoy the electronic EDM genre, it just want something groovy to hear.
In short, Channel Dark is one person that has created something that see's growth. For he has been involved in a variety of genres, going back to several years ago, so he has the click to keep the beats in check. Just need to listen to get the pace of the beats.
By: Natalie Perez