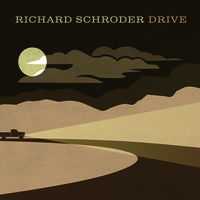 Have you wanted something so badly that you took a long journey and you vowed not to return until your desire was in your arms?
Richard Schroder's Drivin' brings back the memories of things I wanted, how they slipped away, how I wanted to reach out but couldn't. I wish I chased them as Richard did in Drivin'.
"…two hundred miles from holding you
It's the middle of the night
Just me and the highway light
I keep driving
Till the midnight sky turns blue
I'd keep driving
'Cos I'm dying to get back to you."
The lyrical competence of this country music by Richard Schroder is second to none. Without the musical accompaniment, the lyrics alone can stand as a body of poetry. Drivin' is fully rich of booming acoustics that ran through the 2:52 minutes piece of gold found in a musical track. Being one of his best songs, Richard has other singles on the Album, Drive including "Won't you stay, Backseat love and Pray for me
The maturity of Richard's music flows, the mastery of delivery, the sense of achieving an excellent sound drove down the song to perfection. The sonorous sing along chorus of Drivin' was a perfect trick; I sang it all through as I leaned my ear in to receive what his voice had to offer. Richard's work is impeccably structured, and his voice hit the notes in the right places. I could not help but remember again as the soft but emotional country music sank into me like water sprinkled on the soil.
Richard Schroder worked with a great league of musicians who worked and persevered to produce the remarkable and sensational offering like Drivin'.
I mentally saw Richard stumble off the bar into his car and chased the dark night sky into wearing blue linens of the morning just because he wants to hold someone special. I wonder what more he would do for love.
Although Richard writes great lyrics (as evident in his songs), at a point he gave up and walked away because he didn't want to just have fun with music. Sometimes, it is fine to recede so that one can see how far you are going, how big the future is. Richard Schroder's return was a hit. He back came in with all dedication to hit music in the right spot, played with genres like rock, alternative rock, and country music. When he took to Nashville, he joined the Nashville Songwriters' Association where he basked from his tutors who helped him edit his songs.
Richard is a writer, a business and a family man and all these shaped his skills; created the desires to write and produce more beautiful songs.
Drivin' rose from an impressive entrance into a grand exit; I didn't want the story to end. It was indeed full of punches, mature lines (edited more than a Hollywood script), and a creatively engaging story.
The hard work poised by Richard through is career was summarized in 3 minutes of great, climax-giving listening. The success and fecund-ness of the song, Drivin' cannot be over emphasized. The song is still driving through me. Indeed, the only thing that matters to Richard Schroder is to have great songs.
https://www.richardschroder.com/
By – Persha Carlston