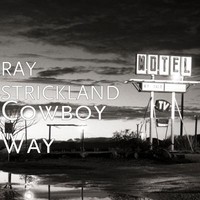 Ray Strickland was born and raised out in Atlanta, Georgia, growing up to become a musician, he is one singer/songwriter of sorts, that is one sleek guitar slinger and family man to boot. Thus, with 3 cords and the truth, his songs are stirring, soulful, and are sung straight from the heart. Whilst the songs evoke back porch banter and gritty home grown realities, these tracks off his latest "Cowboy Way", possess a drive and determination that is lethal to rockers of all types.
That said, "Cowboy Way", brings forth 9 tracks with some of those having some amusing titles, ranging from "Ladder", "Trees", "Pain Killer", and "This Ain't Drunk Talking". "Pain Killer", may not be the funny title you would think, but it's contents are very meaningful. The song details a pain that is felt all the time, even when the pills of those pain killers take effect, it may be gone but it is really not. Using medication to help ease the pain in question is something some if not many, can address in their own lives. This song just embraces those experiences in the form of music that some may feel comforting when listening.
Album Stream: https://raystricklandmusic.com/music
"Ladder", "Trees", and "This Ain't Drunk Talking", are more of the laid back type of tracks, that keeps and easy going formula throughout each of them. They are upbeat, having a catchy approach and appeal to them, with the vocal chords provided by Ray are fun and embracing. Whereas the instrumentals is country based, except more of a rock country vibe than your typical country music sense. This different approach to the country genre is quite pleasing. it is more listenable than the regular genre proclaims, as that one is more mainstream, this is more in the underground sense that it becomes more catching.
Ray Strickland is one with such feeling and emotions, it is hard not to notice within his talents that come in the form of "Cowboy Way". Yes a lot of his songs off this release, are soulful and sung straight from the heart, which makes the material more noticeable. All of his time and feelings are put forth upon this release, you can hear it all within these track selections, if not the album in its entirety. It is there front and center really.
Not much else to be said or had about "Cowboy Way", except that it is an album of sorts, that just gets you. It has gotten the likes of Ray the man behind it all, and others who have heard his work upon here or elsewhere, can enjoy it. It may not be your average or typical country music style, but it is something for the here and now, this is a refresher of the genre. Someone having his own take with uniqueness and craft that makes the music work for him.
All in all though Ray Strickland's "Cowboy Way", is one way to look at the cowboy aspect and country genre together as a whole, then being a part from one another. Make it full to see the whole circle of it's catching appeal.
https://raystricklandmusic.com/
By: Natalie Perez