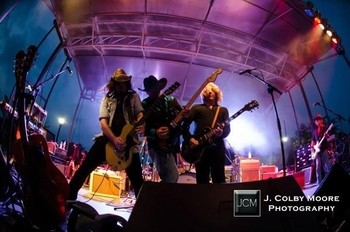 Country artist Ray Strickland has been songwriting and performing for the longest time now. Over the span of his music career, has released countless tunes, performed, and toured with much more on the way! His most recent efforts "Cowboy Way", see's the continuation of his songwriting skills, as it is what he does best. He goes into further detail about this release and what plans he has for touring.
NP: First off, Ray Strickland is the name you went with for this project, but is that your real name as well?
That is my name. I have always been in a band most notably the Gasoline Bros we did a few records did a lot of great shows with Blackberry Smoke, the Band Perry, Drivin n Crying, Billy Bob Thornton to name a few. Late last year on of our main guys guitarist Brian Huffman passed away, he was such a big part of the band and such a great friend, we fell apart. I went to the studio with no intention of doing a record but the songs kept coming so I decided to put it out as me.
NP: When it comes to your genre of choice, you went with country, so what makes your version of that genre different to all the other versions out there?
I don't know what it is. It's a style that's pure Atlanta. The Georgia Satellites, Blackberry Smoke, the Black Crowes, Rock and Roll bands that understand country. When I say Country I mean Waylon, Cash, George Jones. We know how to mix it.
NP: What was it about country music that made you stop and say, "I want that to be the music that I create my very own".
Country has always been about story telling a novel in 3 min. That's why I love Cash and Waylon it's the same with Dylan or Tom Petty they are all story tellers. I'm no Tom Petty but I'm working on it.
Album Stream: https://raystricklandmusic.com/music
NP: When and why did you start playing music in the first place?
I started as a teenager playing in bands. It's been over the last 10 years that I became a songwriter. It's about the only thing I'm real good at. As I get older songwriting is a ageless timeless adventure.
NP: Which instruments did you start off with and end up with in the long haul of it all?
The guitar. It is endless all the things that can be done on a block of wood and six strings.
NP: Which famous musicians do you admire and would you say you have learned from and why?
Number one Tom Petty. He is the greatest American songwriter by far. Put on any of his songs it's like songwriting school, and he knows how to run a band.
NP: What would be your fondest musical memories? In your house? In your neighborhood or town?
Watching so many great Georgia bands do well. Its mind blowing the artist's that come from Georgia, there are way too many to list.
NP: Speaking of CDs and such, you have an album "Cowboy Way". What makes this the album that all should check out?
Cowboy Way is about doing things right. Respecting tradition, 3 cords and the truth.
NP: If you had to pick one word to describe "Cowboy Way" in its cowboy glory what would that word be and why?
Truth!
NP: Some of the tracks off the album have such titles as "Struggling Man", "Pain Killer", and "Trees". What are each of these tracks particularly about?
Struggling man is all about southern religion the struggles of everyone the coolness of Jesus. Pain Killer is about opioid addiction and a over prescribed nation. Trees is about freedom! Being outside sleeping outside on the lake hopefully with the ones you love. Crank it up and dance.
NP: For those wondering, your activity between now and the remainder of this year, what is it that you plan to do?
I'm working my band up for a tour.
NP: How do you balance your music with other obligations – mate, children, job?
Very carefully!
https://raystricklandmusic.com/
By: Natalie Perez