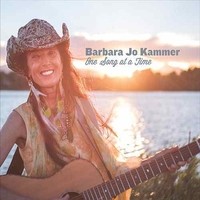 Barbara Jo Kammer, at sixty two years young, might be getting a late start on a solo career, but her release One Song at a Time is so much more than just the recording debut of a promising new singer. Kammer, involved with music throughout her life, is marking an important milestone with the release of her first album – ten years free from the yoke of active substance abuse and the songwriting on this album is a chronicle of that journey out of darkness. The intensely personal qualities of the release never interferes with its accessibility and Kammer knows how to frame the issues of her song in such a way that even those who haven't endured such hells can relate to struggling with demons of their own. She mixes cover tunes with some original songwriting, but Kammer is fortunately one of those truly enjoyable performers who attempt to claim any cover they attempt as their own and never seek to imitate but, instead, interpret.
URL: https://www.hippiebuckaroos.com/
The album opens with a delightful, life-affirming cover of the classic "I Can See Clearly Now" that Kammer transforms with a lilting musical arrangement and a tasteful, uncluttered approach all her own. The uptempo bluegrass tilt taken by Kammer and her fellow players is a natural fit for the lyric and it proves quite a satisfying beginning for the album. Performed to memorable effect by the legendary George Jones, Kammer's version of "Choices" is profoundly moving with equal touches of mournfulness and exaltation mixed in her interpretation. The fiddle accompaniment practically acts as a second vocalist and complements her voice very nicely. "Hard Promises to Keep" is an actual duet featuring the vocal talents of Greg Blake juxtaposed quite dramatically against Kammer's own voice. This is another tune in the classic country mold, ala "Choices", and the lonesome echo-laden whine of steel guitar accentuates this quality in a vivid way. "Medicine Wheel" moves away from the country music sound and embraces a pure folk model with much more expansive melodies and even the presence of fine pedal steel playing doesn't conjure echoes of the classic country style. Kammer delivers an especially impassioned vocal and her voice quavers with various emotions.
Kammer's original "The Winning Side" chronicles her reflection of how far she's come in the ten years since putting drugs and alcohol aside. This is a track brimming over with gratitude and even the often sad cry of fiddle and steel guitar take on a very different hue here. They are more elegiac, mindful of the long road that made this song possible, and contribute to a rich musical tapestry. The bluesy ragtime romp of "New Shoes" gives Kammer a platform for one of her most playful vocals and she benefits from some backing vocal help that further strengthens the presentation. The addition of Sally Van Meter's dobro playing is an underrated part of what makes this song work alongside Jake Simpson's torrid fiddle playing. One Song at a Time is a buoyant and bitingly intelligent album that all but the most cynical will enjoy. The genuineness of Barbara Jo Kammer's performance makes this a thoroughly enjoyable experience from first note on.
CD BABY: https://store.cdbaby.com/cd/barbarajokammer
Jason Hillenburg