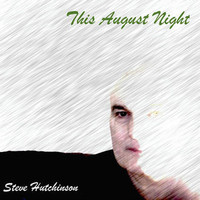 Co-founder of UK's premiere Moody Blues tribute band, Blue Onyx back in 2006 Steve Hutchinson is well versed when it comes to music and performing. Ray Thomas, retired founder member of the Moody Blues even called Steve's voice "great" after seeing him perform. However, when that came to an end several years later, he decided he had to continue-on with music. Come 2014 he dropped a couple records, including a Christmas album. Now he's back with his latest, This August Night. "Timeless Wonder" reached the semi-finals of the 2016 US Song of the Year.
URL: https://www.stevehutchsongs.com/
After 50 years this is a late coming for him, but kicking off with "Timeless Wonder" is the right move for all it's worth, because it's a little slice of perfection. The sax comes in for a solo and makes and just makes it. You don't even hear it coming, and that's why it grabs you and brings the track to life. But it's followed by the lesser likes of "And So It Goes" but it's not all bad or anything, it just seems to serve as a come down after such a fine opener. The track does pick up a little and challenge me on that, but it falls short of what the opener offers, and the vocal mix isn't as bright. The progress I was looking for, ironically comes out in the third track, with a nice little number called "Truth And Lies" with its cunning lyrics and more evenly mixed vocal sound. The verses are spread out with a chance to breathe and that is why. You can feel the pain with him in this one, and that's the mark of a good song anytime. It's followed by the excellent title cut "This August Night" with its lazy vocals and esoteric ambience. It's a pretty-sensational listening experience to say the least, with all the hypnotizing power in the world. It's an amazing track if you like that sort of thing.
There's a lot to choose from, and "Going For The Gold" is a stand out track because of the songwriting and acoustic playing which give it high marks. It's not a hard song to enjoy because he keeps you interested at every turn. It's one of the better tracks, and so is the following "Life Begins At 50" because there's not one not one word in these tracks that you can argue with, and nothing can beat that. You just have-to go with the flow by now or this album is not for you. It's a mellow monster of sorts but you also have-to like that. It has a few more moments worth pointing out as well. "Bittersweet" and "Might As Well Be You" aren't the best moments but they're still up to Hutchinson standard. But the track worth waiting for most is "Never Going To Be The Same" which contains world class values in every department. It comes along at the zenith point of the record, with every element coming together correctly with top marks to report. "August" is an instrumental with some compelling guitar work and some fall atmospheric sounds to help its point along. The rest of the album falls short of the latter, but takes it out on some easy notes to reflect-back upon it all without burning out on a great album that is so easy to listen to.
Larry Toering