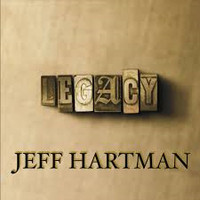 Jeff Hartman has been writing and performing original songs since 1980. He is the owner of Screaming Wife Productions, LLC and has been a member of the Recording Academy for 15 years. He is an internationally recognized songwriter and recording artist and has worked with Grammy- nominated writers and artists. Jeff lives with his wife Paula at the South Jersey shore, in Margate, NJ. He loves to write for singers of all ages and recently released his new album, Legacy, with its smooth jazz and soulfully tasting adult contemporary songs. Legacy can be found at CD Baby, along with his first release, Mansfield.
The CD kicks off with "Running Back To Me" which opens with a blues riff before the lyrics bring a freshness to it, about a relationship gone bad as usual. But the items of subject matter give it the human touch. It's hard to think of hearing this and not wanting to hear the rest. The mark of a truly good opener. It starts the set off just right. The nest track, "Or Nothing At All" plays more like soft rock or easy listening, which both fall into on this album. It's another fine track though.
"Summertime" maintains the same tempo, and an Al Stewart influence starts to show.
FACEBOOK: https://www.facebook.com/jeffhartmanmusic/
It is a most pleasant and relaxing. "Kookitykoo" is honky-tonk piano driven track with a playful sense of humor to the lyrics. "Ice Cream Man" is a ballad of sorts, with lyrics that mention some flavors and whatnot. His vocals are what make it all it can be. It all makes way for "Overtime" which kicks into the highest gear so far. I like the application of cowbell to pace the energy. It seems impossible not to enjoy. It ends as well as it begins. "Papas Lullaby" is another ballad, but it's much better than the previous one in every way, being the more serious of the two, so far. And that's not a bad thing, it's just a lot less playful.
By this time there is no question of Hartman's talents, and things start to show more of a gospel side as "The Peace Song" brings that into the picture. In-order to make a statement, something you have-to preach, but you have-to make sure not to preach to the choir while at it, if you really want to be taken seriously. You have-to go about it lightly but strongly for it to work any magic beyond just being a song. This would've gone down well in the late 60s/early 70s, as it does here. It comes in at the right time on the album and sets another tone to work with as it goes according to the track list arrangement.
The songs all play on in the same vein as described, with "Yes I Can Not" has him leaving his excuses for not taking time for love, by listing some things to back it. The easy listening factor is found in the tracks that pay at this speed. But there also comes a gospel aspect to be found on some of the album, but it doesn't find any dominance. It's just part of the diversity efforts. "Obsession" follows and not only is there an Al Stewart vocal influence, but the Spanish guitar proves to take that all the way. The album finally closes with "Story Of Your Life" and it's all worth multiple rinse and repeat.
Larry Toering