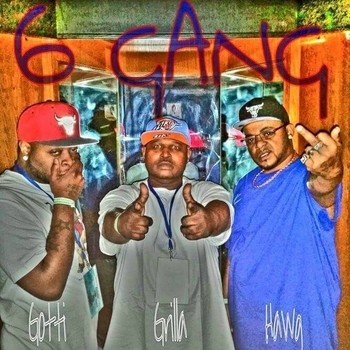 6Gang's been an active act for some time, released a few singles, with more music underway as of currently. So much activity has been in and out of their lives, it is hard to keep up with it all. No matter what though, 6Gang just want to make music, get it heard, play some shows, and do it all over again. Grilla discusses these times, their music, and what the future holds.
NP: What got you into Hip Hop?
The influences of our mom love of music from young age. All we heard was music waking up in the morning with our older siblings and other neighbor hood kids, break dancing at the park on the cardboard it was a sight to see, from our neighborhood, music was our outlet, the same for our cousin Gotti that was in Memphis.
NP: How would you describe the act that is 6 Gang?
First we're not just an act we're family (2 brothers /cousin) so this has been a everyday thing since we could remember, music is our way of life, it helps us express what were going thru and what we have been thru, while you playing our music you can tap in that time in our life, like you were there and the different topics we have our happening in our world today.
Stream: https://www.reverbnation.com/midwestthreatsmyspace/songs
NP: Why go with a name like 6 Gang, what does it mean or represent for you as this particular act?
The name 6gang is not pertaining to 6 individuals GRILLA has his own alter ego Mr. Ping I'm from KC street life and hard times believing in a way out made me the artist I am today. The number 1 spot is what I'm fighting for it ours and I'm here to take it. GOTTI has his own alter ego in Memphis life is no joke, it's all about who can make it out the ghetto bean and rice, what nigga had to eat mane, I'm ready for steak lol. Last but not least, HAWG has his own alter ego because I'm not just a artist, I love production as well, somebody like me from the sota ball can one day be a major director I can see it now! Yay yay, it's like the Clark Kent effect when its bout biz, it's one thing but when we touch the stage it's something epic!
NP: What led to your style of delivery and beat-selection?
Well the best way I can describe our style and beat selection is that if your passionate about your music a instrumental or beat per say, will talk to you and you'll just know that it's the one! Only real artist know what I'm talking about lol.
NP: Who are your influences within your music and in your personal life?
God first of all, 2nd family, and 3rd how we were raised being around music and learning about all types of music and we have a lot of influences from artist like man, you wouldn't believe, Michael Jackson, (kop) dr. Drea ,2 Pac, Biggie, Jay Z, Bone Thugs and a lot more.
NP: What were you thinking about when your songs are developed? Explain your process.
We just vibe with the beat, Me (GRILLA), (hook master), puts down the first layer its wild! How he has never wrote a hook since we started doing music, but every time it's a hit, plus the pain in my voice bring reality to my listeners. I'm jus being real ya digg and HAWG AND GOTTI, follow thru with what​ we call the finishing touches. Gravy on the biscuits lol GOTTI does his thang, like no other mix rapping and harmonizing together off the head, I don't know how he do it. HAWG in out jabs on the way he puts things to have you thinking like, I know he just didn't say that lol.
NP: What made you want to get into the music business?
Where we was raised that's really all you got, the sports and music or drugs you see one didn't work out. So music is our way out and when you good at and be people see a star in you, then what else you supposed to do, but evolve and hopefully make your dreams come true.
NP: What is the most difficult thing you've had to endure in the music industry?
Investing when it's your last, because you can make the wrong choice and we have bumps in the road and your whole world can crumble, but now we take our time, dissect the issue and make smart choices we been there done that.
NP: What is the most difficult thing you've had to endure in life?
Death! it's all around us, it's been there our whole life, but being on the road promoting our music and love ones pass is the hardest. But it makes us go even harder because we trying to get our fam outa that shit! (My bad)!
NP: If you could compare yourself to an already established artist/band, who would that be and why?
Nobody we rare breed and it shows thru our music, but one of our big influences in the game and how they doing is migos, they are the number 1 group right now, but other than that we salute and support all hip hop artists out there.
NP: Who is your hero and why?
For me grilla its my mom's went thru brain surgery, survived been and most of all took care some crazy ass kids making it thru the projects and poverty, she is the strongest person I know. Hawg sister bro raised me as the man I am, moms and pops wasn't always around grilla, know so family is my answer lol.
NP: What do you think your listeners will get out of your music?
It'll be a combo of things, you'll get us as an artist and as people also realness from our heart and the life we lived and where we at in life today. It's explosive as you can see for yourself, we give excitement to our viewers and listeners, as well as hope for our youth to see how we did it and know.
NP: What's in the pipeline?
Bringing music that has more feeling and inspiration with our single "I got a plug!" And the world premier of the video on September 29th 2017. On October 31sr 2017 is when it drops for you to go and download it. Plus there's a mixtape and the album, to follow with the help of our label, counting up ent with host of new blood to hit the scene.
NP: What do you hope to do with your music?
Get our story out to help our people in showing you can change your life and be positive about your dreams and hope whoever going thru hard times, we been in that same position its way out don't give up and most of all, change our families lives in the process cuz look at us, now we right here doing this interview.
NP: Any final shout-outs?
Shout out to god first, our family because they take chances with us we know they got our back and they riding off top big things in motion and to all who support this music. We love ya'll the fans is most important, because they can be miles away, but feel like the riding with you and you are. Plus we love feedback so bring it! Our manager priest Wilson always got things in place for us, to build and get better in what we want to achieve. As he says #teambuilding and to bass mobile and all the DJ's, supporting our movement and our record label counting up ent. They going hard for us 6Gang and last but not least PR team power ent.
https://www.facebook.com/6IXGANG/
By: Natalie Perez