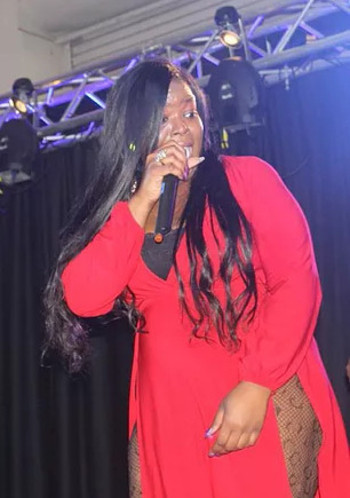 Raven Salve' (formerly known as Lady Ebony) discovered her passion for singing at an early age. Since then, she has grown up into a beautiful woman, taking her passion of music as her density and healing source. Thus, she has gone on to do performances for the large and small crowds, including appearances elsewhere in terms of TV and radio. This would all lead to her releasing original works, in the form of singles, and even albums, including having her work currently on all new music and upcoming projects. Raven herself goes into detail about these projects, her music, and everything else that has lead up to her in this time and place.
NP: Have you ever been mistaken for Raven-Symoné, due to your namesake, Raven Salve'? The two of you have slightly similar names after all.
I have never been mistaken for Raven-Symoné.
NP: You were formerly known as Lady Ebony but now go by the name Raven Salve'? So why the change of pace? Will we your former namesake used in future formats like a dedication or memory type of sense?
I decided to change, two years ago, because I wanted my stage name to be unique. When I was known by the name of Lady Ebony, I was always getting mistaken for other artists, that had used the word "lady" in front of their name. Besides there are too many artists out there today using the word "lady" in front of their name. So doing away with it, made it easier and Raven Salve is who I am now.
NP: Which way is your name spelled as Raven Salve' with the " ' " or without it?
With the " ' " it makes me even more unique and original I think.
NP: When and why did you start playing?
I started singing at the age of 5 years old, because even then I was passionate about music.
NP: Which instruments including vocals, do you play?
I also play the piano.
NP: What was the first tune(s) you learned?
"His Eye Is On The Sparrow".
NP: Is your family musical?
Yes, my grandfather was a deacon in the church and he sang in several quartets.
NP: Describe your family member's musical interests and abilities.
My grandfather had very beautiful vocals and had the energy when he sang.
NP: Which famous musicians do you admire and that you have learned from? Why?
Fantasia.
NP: What are your fondest musical memories? In your house? In your neighborhood or town?
My fondest musical memories is singing in the church choirs and singing in several girl groups.
NP: Were you influenced by old records & tapes? Which ones?
Yes, I am influenced by songs like "Clean Up Woman", "Midnight Train to Georgia" among others.
NP: Who are your favorite musicians? Groups? CD's?
Yes, I am still influenced by Aretha Franklin, Gladies Knight and Betty Wright.
NP: Have you been in competitions or won any prizes?
Yes, during my earlier years, I had entered into competitions and have trophies.
NP: Do you get nervous before a performance or a competition?
Yes, I still get nervous before performing.
NP: Do you perform in public? Describe those occasions? Concerts, radio, TV?
Yes, I perform in public, I have done so on large and small stages, for various crowds.
NP: How do you handle mistakes during a performance?
The audience does not know when I have made a mistake.
NP: What advice would you give to beginners who are nervous?
I would tell the beginners to stay focused on their goals and to continue to believe in themselves and continue to work hard.
NP: Since you the ability to sing various genres of music, how would Raven Salve' sound if she sang metal, rock, or punk music?
I do not know, since I have never tried it. I am not a huge fan of heavy metal music.
NP: Would you ever go that route, doing a series of songs, in every genre in existence?
I would have to entertain that thought if that opportunity arises.
NP: Aside from the genre mixing, you do have an album "Let's Dance The Mix" that was released in 2016. Have you been working on anything in terms of a follow-up?
Yes, I have released new material, including one new single back in February of this year, titled "Victim No More". Besides that, I am currently working on another new single titled "Rock With Me", that is set to be released real soon. On top of all of that, I am also working on my second album titled "Metamorphosis".
NP: Besides that album, you have several singles as well that are out and about, tell me about those and why should we check them out?
The singles that are out now, are there to encourage the words to anyone who are in a troubled relationship and just need to dance those frustrations out and away for good.
NP: On top of your own music, you have other projects in the works as well, tell me about those if you don't mind?
I do have a short film project in the works titled "Alone For The Taking".
NP: What else do you have planned between now and the rest of this year?
I have several shows booked throughout the end of the year that will keep me pretty busy!
NP: Would you like to say or want to add on anything else?
Nope that would about cover it.
NP: Is that your final answer?
Why yes it is, thank you very much!
By: Natalie Perez