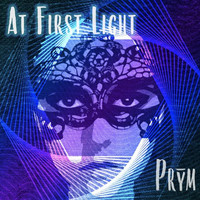 At first indication of PYRM's track "Flames and Games", off their EP "First Light" released this summer, so many acts popped into my head. Ranging from Paramore, The Nearly Deads, Icon For Hire, Stars In Stereo, Stitched Up Heart, Courage My Love, Eyes Set To Kill, and New Years Day. If any of these seems alike or familiar it is because they are a lot alike, if not so much alike to PYRM in so many ways.
For one, like these other acts, PYRM takes rock as their main choice of genre. But their music is so much more than just one genre of style. It sounds like alternative rock meets punk rock, with the rock genre that they stick to the most. By adding this blend of effectiveness in terms of genres, it creates a variety of the rock genre, into one giant aggression of raw power.
Like take for instance the track mentioned above that is "Flames and Games", as soon as the guitar chimes in with its riff work, the drums come in full force, whilst the vocal chords drop atop both of them, creating an instant striking of similarity in your head. Having you literally say to yourself, if not out loud, that "hey this band sounds so familiar or so much like…" that it gets you.
That is what precisely PYRM's "Flames and Games", track does to you as the listener. In fact, that is really the case for the EP as well, "First Light", has a total of 5-tracks one of which is "Flames and Games", but again that track is the stand out here, whereas the rest of the EP as a whole, sounds just like it, creating such a similarity to these other female fronted rock acts, it is hard not to pin point PRYM to another act right away.
In terms of quality, sound, and style though, again PYRM has the rock genre down, vocals flawless, and instrumentals purely progressive in all ways possible. It is simply that hard hitting force of rock music, that you will always find yourself singing along to. If not bobbing your head to the beats, that is the vibration that this band and it's release and single do.
It is hard hitting, heaviness that keeps the music in line, but focused as well. It's as if the music has a never ending tone of beat, as each of the tracks off the EP, plays right into the next one, which is why this is just a solid source of material really. Not just the EP but this track too. It just all plays off so willingly and nicely, it packs in that punch so powerful you feel energized when listening.
In short PYRM's style is again a lot like Paramore meets Stitched Up Heart, both female fronted bands that keep the vocals high with the instrumentals higher. You want that aggressive push, then this is the band to check out the most.
This is the one that has got the edge and the angst in rock music!
By: Natalie Perez