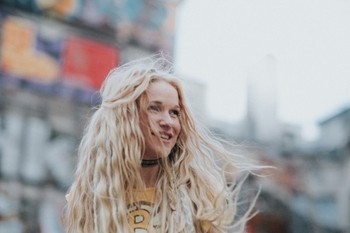 Following a successful career in Norwegian folk-tet Katzenjammer, today sees Sol Heilo share the video for 'America' the lead single from her upcoming debut solo album 'Skinhorse Playground'.
Setting the tone for what is to come – 'America' is a sparkling ode to the unknown, and the promise of new places and faces. It's indicative of not only the project, but Sol's overall process.
The video for 'America' was directed, edited, filmed and performed by Sol. It took 744 hours to make the video, the raw footage material is 27 hours long; filming in 42 locations in addition to 24 close ups in her living room and garden. A DIY project if there ever was one.