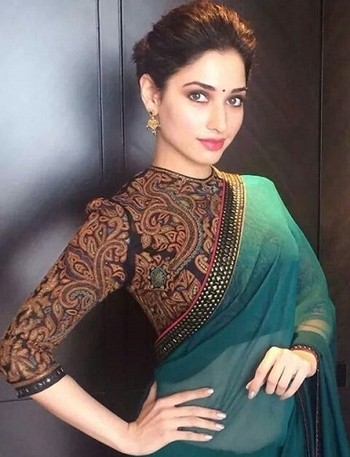 Plain sarees are trending nowadays, as they're easy to carry and they look elegant. Moreover, plain sarees are just perfect for every occasion, be it formal or informal. Apart from this, they fit into every lady's budget. You can create so many statements with same saree. All you need is to combine them with different blouse designs.
However, while carrying a plain saree, how beautiful you look depends upon your blouse and its design. This guide will brief you some tips for blouse sleeves designs, which can compliment with plain saree.
Some Blouse Designs For Plain Sarees
•Floral Blouse
Floral blouses can add to the beauty of your plain saree. When you wear a plain saree, blouse is the only garment which gets highlighted. Therefore, make sure that you choose appropriate prints and designs to look elegant and trendy.
•Maharani Blouse
The reason why this blouse design has got name as "Maharani" is because its neck is heavily embroidered. These blouses look the best when you carry them with plain or bordered saree.
•High Neck Embroidered Blouse
This blouse design works great with a plain or bordered saree. It can embrace the overall look of your outfit. Combine it with complimentary accessories to get more stylish look.
Things To Keep In Mind For Blouses
•Fitting
Make sure that blouse which you are carrying with your saree is well-fitted. An improper fitted blouse can spoil the look of your saree. This is very important and should be considered when you are going to tailor for getting a blouse piece stitched. Make sure that you know your measurements. In case it's the first time that you are getting a blouse piece stitched, ask the tailor to take measurements properly. A well-fitted blouse will help to embrace your curves while making you look younger and slimmer.
•Consider The Colours
Nowadays, you can combine your plain sarees with any coloured blouse. Pick a contrasting colour for your plain saree, however make sure that the chosen colour goes well for your curves. For instance, if you are rather curvy, pick dark coloured blouses and combine them with light shaded sarees. Dark colours will create an illusion of being slimmer and will hide your problematic areas.
•Consider The Fabric
Make sure that the fabric you pick for your blouse piece is appropriate as per the weather. For instance, if you want to wear saree in summers, pick cotton cloth. The fabric so chosen should be comfortable to you. Choosing a heavy fabric can make you feel uncomfortable.
Moreover, some fabrics such as cotton create an illusion of being slimmer. Therefore, choose the fabric keeping this in mind so that a blouse doesn't spoil your outfit.
•Sleeve Length
There are various sleeve lengths available in the market, out of which you should choose an appropriate one. Some blouses are sleeveless while others have quarter sleeves etc. Make sure that chosen sleeve length compliments your body.
Conclusion – Hope this guide will give you required details about blouse designs.