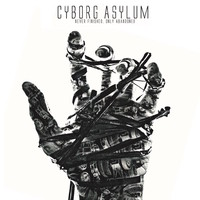 Cyborg Asylum is a post-industrial alternative rock duo out of New York City. They're out with their new single, "My Metallic Dream." With dark electronic sounds, they take you to a post-apocalyptic world. There's dreariness and a lingering sense of danger in their music that takes you there. The duo is made up of David Varga (composer, arranger, producer, and keyboardist) and John Tumminia (vocals and lyricist). What started as a solo concept on Varga's part, has become a momentous journey with great lyrics written by Tumminia.
"My Metallic Dream" is a somber song that does little to fill hope in the listener, not that this is the purpose. Dreary and downtrodden, Tumminia sings about running low on strength and how endless this impossible situation seems. There's no room for positivity after the apocalypse, apparently. The person is desperate to get out of this hell, or at least get someone else to understand what's happening- he feels all alone because no one can hear what he does. It's like he's the only one aware of the situation they're in.
Varga's rich melody is what really makes their entire concept work. It's rich and layered with so many elements to pick out and appreciate. It takes several listens to really hear everything in the music. The lyrics are a bit repetitive, admittedly. They work for the song and the idea, but personally repetitive lyrics are hit and miss for me. Tumminia's voice is not what I expected. It's definitely higher than I thought it was going to be, and at times the music tried to drown him out completely, which is a pet peeve. His voice is still nice to listen to, however. They make a good team and that makes the song itself great to listen to, despite the hiccups I found here and there.
Their video is set in an abandoned warehouse, with Varga and Tumminia looking utterly depressed, which fits the bill. Varga is off to the side for the majority of the video, looking much like you'd expect someone after the world ends to appear (according to Hollywood, that is). Eyeliner and all. Tumminia has a few outfit changes, with the most notable being a very sparkly suit, complete with some dark shades. It's spectacular in a very odd way. Towards the end of the song they even include some girls in gas masks- two with- get this- bedazzled pasties and one with a sparkly tracksuit. While that took me out of the depressive mood, it was definitely interesting.
I'd suggest this song to people who like artists like Depeche Mode, Nine Inch Nails, and synthpop bands like Erasure and Pet Shop Boys. Cyborg Asylum brings an interesting edge to what is a pretty basic concept otherwise, which is very impressive. I like "My Metallic Dream" and can see myself listening to it again in the future if I'm in the mood to be transported to another setting. I'll be keeping an eye out on Cyborg Asylum for their future work.
Victoria Patterson