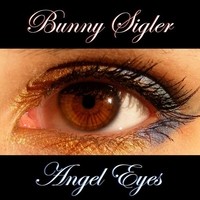 Seventy six years young Bunny Sigler, a key piece of the "Philly" sound and renowned for his extensive work with producers Leon Huff and Kenny Gamble, isn't yet done despite selling millions of records over his long career and garnering multiple Grammy nods. His latest single, "Angel Eyes", is a song first popularized by Ol' Blue Eyes himself, Frank Sinatra, but Sigler adds his own spin to this standard in the inimitable way only a few performers can. This single somewhat moves him away from his traditional soul approach and brings him closer to jazz, but the results remains as fine as ever.
In fact, the old school jazz arrangement on "Angel Eyes" is the very epitome of "classic." The piano lines running through the arrangement are the seed from which everything springs, but there's some strings at work here that bring a lot to the overall effect. The mid-tempo pace comes with a bit of the blues too, for good measure, and it's clear that Sigler is quite at home with the form. This performance takes Sigler a little bit away from what we typically expect from him, but this isn't a bad thing – legendary singers and interpreters like him are capable of eye-popping stylistic gymnastics and possess versatility not at all common among their much younger peers.
Sigler's vocal expertise is unquestionable. He inhabits the familiar lyrical terrain of the song without ever ceding any obvious deference to his predecessors with the song and the highly personalized phrasing gives the performance a flavor surely missing from the original popular version. It's equally apparent why he chose this tune. "Angel Eyes" is an near ideal tune for any vocal stylist as it affords them an opportunity to put their own stamp on the song – it is so fluid, so durable, that even the clumsiest efforts can scarcely undermine its quality.
Invoking material like this is tricky, however, for one central reason. History and the march of popular taste has rendered, for some, songs like "Angel Eyes" into the aural equivalent of a butterfly trapped under glass. Traditional material like this seems more like an artifact from a bygone era rather than a living work of art practically beginning for someone to re-imagine it for new generations. Bunny Sigler, despite his age, has done just that. This is a modern "Angel Eyes", not mired in retro conceits, and perfectly minted for our current day.
The latest single from Bunny Sigler reaffirms why he is not only one of the Philly school's greatest soul exponents, but moreover a national singing treasure who should be lauded as one of the country's supreme musical stylists. He has survived countless changes in commercial fortune, continued to create, and now rightfully occupies a position of tremendous respect on the modern scene – both as an elder statesmen and a continually vital artist. "Angel Eyes" is just one more exclamation point on a long career as one of soul and R&B most iconic vocalists.
G. W. Hill