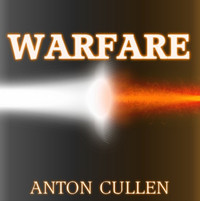 "Warfare", was just released and is the second single out of the series of new singles coming from Dublin's own Anton Cullen. A multi-instrumentalist and producer of sorts, who has this single as well as a previous single titled "Breaking Through". Both that single and this single " Warfare", expose the ability of what one producer, creator for that matter can do in terms of music creativity.
Anton Cullen goes into detail about the description of this track, saying that it is a piece that is inspired by the mental, emotional, and spiritual battles that have often taken place in our mind, whether than a battle experienced in an external setting as a physical war. That being said, "Warfare", is a piece that just has an intensity to it, not heaviness per-say. But a fiery passion of sensation that takes one through a journey of their own chaos and conflict.
As you listen in to it, you get an experience more than anything. Whilst this may be a hit for the dance floor of any concert or club setting, the song speaks louder than it's sound can carry it. More of a layered source of depth within its material of craft and angst, builds this track to being more. When listening to it, you hear originality all over the place, it may sound like other EDM, electronic dance music, you have heard previously by other artists or similar one's if at that. But how Anton Cullen takes his music is not like the others. He is not like the others not at all, if not even trying to be, he is being himself and he is original and unique.
Listening to such a track as "Warfare", it brought to mind the upcoming array of holidays fast approaching now that fall is right here literally. This track capturing the essence to that of Halloween time, it had this eeriness going for it, but a bouncy tempo to drown it out, keeping it all upbeat and in check. It also goes into mentioning that the video for this track has quite the effective buzz, as it's glaze of affects really dazzles you.
It is clearly obvious that Anton Cullen's craft of work, has gotten him the composition he deserves as an artist. Both as producer and writer of music such as this style and sound he's going for here. "Warfare", is original, beautiful, and drives the music into an intense yet aggressive tone of force, that brings out those synthesizers the dance around the soundscape of the track and it's music together.
In short, his style is just so flawless it becomes vital to hear. It serves him rather well as he continues to branch out creating more singles and tracks to lead up to his upcoming release later on. EDM music can be either timeless or aimless but with his works it does not do that not at all. His music creates more for the listener to take in and enjoy. Really absorbing the music being heard, yet created, that it can be embraced of its elemental focused and fusion of both sound and style. That is the way to develop a trait of music and how Anton Cullen does it with his very own.
https://www.facebook.com/antoncullenmusic
By Natalie Perez