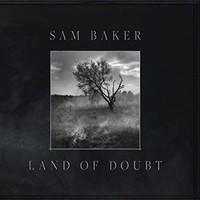 Following a European tour behind his new album, Land Of Doubt, Sam Baker is turning his attention to creative projects in 2017: Opening his first-ever exhibition as a visual artist, staging an original play and filming a documentary. As you may know, Sam has limited hearing after being on a bus that exploded during a 1986 terrorist attack in Peru, but he's from Texas, now living in Austin. Land Of Doubt is considered by Sam Baker himself as a companion piece to his 2013 project Say Grace. It was recorded in Nashville with producer Neilson Hubbard. The album features the 50s jazz trumpet of Don Mitchell and guitar textures by Will Kimbrough. The tracks are mixed with five instrumentals of the colossal order, for a well-engineered release that kicks off with "Summer Wind" to set the mood up for what comes after it in "Some Kind Of Blue" which is by far the better of the two tracks. But it doesn't mean the opener shouldn't be mentioned for its killer guitar work.
AMAZON: https://www.amazon.com/Summer-Wind/dp/B0721TXWWQ
Being on the scene for thirteen years now, he's no newcomer and has become more like a wise owl. And this is the track that most reflects his wisdom. It's right up there with anything like it that I've ever heard. A classic of his own with a heartfelt delivery. If you can't find anything here you might as well pass, because it just gets more interesting as it goes. "The Silvered Moon" is the first instrumental cut, and it's a short but sweet ride into the next track "Margaret" which meets somewhere in the middle of the pack, with just about enough to make the cut. It could just be a little better, as the only track with any lacking appeal to in out of fifteen being not too shabby.
"Love Is Patient" is like a whole other story altogether, but a sonic unheard up till this point. This is as interesting as anything I've heard in 2017 so far. It's out of this world as a piece of music in its own little ways. The piano parts are enormously satisfying while the vocals take a back seat but still get the message across. I like it as much as anything on the album including the second track, even if it isn't as good to the next person. It's where all the elements come together with the most impact for me, as where "Leave" does almost the opposite but stays good in-its own right. It just didn't hit me with as much impact. It's a come down after such a big sounding track.
"Pastures Fit For Thoroughbreds" is a moving instrumental number with searing orchestral backing. The only thing wrong with most of the instrumentals is they running time makes most of them more like introductions to the following tracks. This one is helped by the next track "Song Of Sunrise Birds" actually being another instrumental which almost makes it sound like one song, but it's barely enough to mention either way. "Moses In The Reeds" is pretty interesting but sounds unevenly mixed for the most part, and "Peace Out" gets a mention for its current video clip being pushed, which is a beach setting for a beach song. "Land Of Doubt Takes" it out with one of the best moments on this album worth seeking for all this and more.
Larry Toering