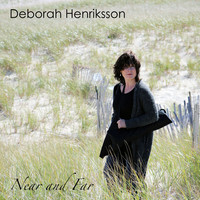 Sweden based singer/songwriter Deborah Henriksson is coming out with her new album, Near and Far, on the 25th of August. Henriksson's music is a mix of Celtic, folk, and country. You can even hear some pop influences if you pay attention. With a rich and distinct sound, Henriksson stays true to her roots in her newest album. She's drawn inspiration from many artists, including Celtic Women, Enya, and Joni Mitchell- her own, original sound remains the clearest of all. Henriksson has seen a great deal of exposure throughout the world with her music. In 2016, she won the Swedish Folk at Heart Festival. She put the prize towards releasing this album.
Vocally stunning, Near and Far is a fascinating album with a unique sound. Henriksson truly shows you that she knows her strengths and leaves you in awe of her talent. Guitarist Bengt Andersson and Mats Nyman, who played the remaining instruments, bring Henriksson's already ethereal voice to a new level. If you're in need of something magical, look no further- Near and Far will have you under its spell in no time.
My favorite track, by far, was "Wild Fire." This song had more elements that departed from her usual sound, while still remaining organic to the album as a whole. The electric guitar is most noticeable in this track, and it adds to the power of the track. It makes sense that the loudest track would be titled "Wild Fire." I felt an odd sense of yearning when I listened to this song- what for? I am still unsure. Regardless of the lyrics, the song felt bittersweet to me, while still holding my attention (and my heart).
"Face Your Fears" is the opening track and it has a music video to go with it. As you would expect, the video shows Henriksson wandering around some of the most beautiful locations I've ever seen (all of which are in Cornwall, England ). Between the ocean, complete with idealistic cliffs, and the lush greens, I found myself wanting nothing more than to be on a daring adventure. The song itself is very inspiring, as the name would suggest. It has my favorite vocals on the album. Henriksson's voice is entrancing and the accompanying music is so lovely, as usual.
Her lyrics alone are worth paying attention to- beautiful and uplifting, I felt a wave of calm wash over me when I was listening to this album. They're just as spectacular as the other components that make Near and Far the Celtic-inspired masterpiece that it is. After hearing the album, I felt more serene and positive, excited for the day ahead of me. Near and Far is quite impressive, in that way.
If you enjoy Celtic, folksy sounds and outstanding vocals, I would definitely suggest giving Near and Far a listen. While her music is far from what I would usually listen to, I found myself getting lost in my own little world because of the enchanting sound. Thanks to the music, it felt more fantastical than I was accustomed to.
Artist Web Site: https://bongoboyrecords.com/deborahhenriksson
9/10
Victoria Patterson