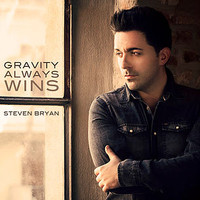 It's been a little over seven years since I last worked with Steven Bryan and reviewed his album 'One Way' back in 2009, – https://skopemag.com/2010/06/22/steven-bryan-one-way. I said then that "You haven't seen nothing yet from the man they call Steven Bryan; just get ready and prepare yourself because it's gonna be HUGE!" And man does that statement hold true to this moment in time with Steven Bryan's much-anticipated album 'Gravity Always Wins' out now. This 11-track recording is just refreshingly vibrant and full of artistic spirit that Steven Bryan has brought to life here for your listening pleasure. I'm so very glad that Bryan is back in the saddle with new music as it was a long wait but well worth it. This brand new record is showcasing Steven Bryan as the true singer/songwriter he is.
This time around, Steven decided to go away from the full band formula that was present on 'One Way' and instead shine the spotlight on just his voice and guitar for 'Gravity Always Wins'. The result is nothing short of magnificent as it sheds a whole new light on Steven Bryan as the rejuvenated solo artist. I have to say right off the bat that the recording quality/production on this record is just mastered perfectly as the overall sound is professionally smooth. All of the music and vocals are structured just so with the finest precision in place which helps shape the entire album. The first track and first single off of 'Gravity Always Wins' is "Sing To Me" and be sure to check out the official music video right here:
This song is an acoustic gem and screams Chart Topper with its radio-friendly tone. Bryan's vocals are cool 'n' crisp and his presence is strong vocally and musically. Bryan sails through the highs and lows flawlessly as he sings from deep within on "Sing To Me" capturing all of the feelings and emotions along the way. The next song is "Dolled Up" where you will hear SB singing with such conviction and in such a distinct manner. Bryan throws me for a loop on the next number, "If Only", where this Italian-born, London-based lad decides to channel his inner Country-Western mojo. I'll be the first to say though that Steven nailed it as the country beat is fun and loose, which makes you want to dance all day and all night. This is a whole new side to Steven Bryan I didn't know existed and I have to say that it's invigorating; "If Only" we knew! Next up is a track titled "Lights" that has such a bright, delicate & soothing flow that is simply infectious and then right after that you hear the song "Mr Charm" that is so airy and free in its delivery and the approach is without question charming. SB again channels newfound elements on track six, "The Call", where the listener will pick up on a disco beat pleasantly surprising me once again. Call me crazy but I can't help but think Bryan has some disco in his bones and made a Call to Blondie on this one. "The Call" has an upbeat, Pop 'n' dance hook that has Steven Bryan urging you to "Come On, Come On, Come On!" It's impossible to not like this song with its bubbly texture and hot groove that will have you shakin' in your "Boogie Shoes". You're just "In Time" for the next song where Steven Bryan has you listening close with its tender & emotional touch; plenty of heart and soul on this number. On the title track Steven is soaring high above the clouds & the stars where "Gravity Always Wins". Gravity may always win in end but Bryan has battled here to perform such a complete package and wonderfully-sounding song that is without a doubt radio-friendly. So, put a W in the SB column as he conquered the hell out of this song with his strong effort proving that Gravity and Steven Bryan can work together to get a big win. Following along we have another song constructed and designed for radio called "Open Your Eyes" where the vocal dynamics and tone are just superb. The finale is a perfect curtain call where Steven deserves a Standing Ovation and Encore after listening to "Invincible". The title of this song is fitting because it displays Bryan singing with such force and purpose letting it all out on this recording. You sense a dramatic ending here and powerful anthem of sorts where the name "Invincible" sums it up perfectly.
I'd have to say that Steven Bryan's voice has just the right amount of raspiness where it doesn't overpower or overshadow the subtlety of his vocals. You get the perfect balance of edgy and soft notes coming through that just flat out works. In the end, I am so impressed with Bryan's efforts where I honestly believe he has found his true niche. A singer/songwriter is reborn here as Steven Bryan came to play and played to win. The simple yet highly effective components of: 1 Voice + 1 acoustic guitar = 'Gravity Always Win'. Mix that with a fine-tuned production and you have a winning combo every time! This is one album you don't want to miss out on as the stage is set and the atmosphere is just right for Steven Bryan to take the world by storm with his latest release. For more information be sure to SKOPE out – www.stevenbryanmusic.com – where you'll find all of the up-to-date news and updates and even purchase 'Gravity Always Wins'. You won't regret it!
5 Skopes
By Jimmy Rae (jrae2@att.net)