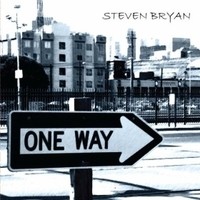 I had the pleasure of reviewing Steven Bryan's Let Me Stay EP last year for Skope and I was so glad I had the opportunity to do so.   Through that four-track set, I was introduced to a REAL musician who showed huge potential as an emerging artist.   Bryan definitely didn't disappoint or let me down with his new release titled One Way.   There is only one way for Steven Bryan and his music career to go from here and that is up…uP…UP!!!
Just like in the previous EP, Bryan is once again responsible for the majority of the music & lyrics on One Way.   The London-based singer/songwriter also co-produced and helped out with the arrangements on this new disc.   His band-mate Francesco Lo Castro was a major factor during the making of this album with producing, arranging, recording and mixing duties along with supplying his phenomenal guitar parts.   Other key players that contributed to the making of this record include: Dominic Giannetta on bass, Nick D'elia, Crazymind and Steve Kitch.  
As I stated in my last review, I mentioned that the EP was "a rock recording with some soulful pop melodies" and I also called "Bryan's vocal delivery a softly-spoken approach with a rock edge" and "cool pitch".   I would say that Bryan hung on to a lot of these elements for the new album, but brought in some new flavor for your listening pleasure.   Steven still sings with a lot of soul here but instead of making radio-friendly pop/rock tunes, the Italian-born musician decides to get more deep and involved.   The substance displayed here on One Way is nothing short of incredible from a lyrical and musical standpoint.   Steven has a graspy quality to his voice that works extremely well with the overall sound.   He sings with a perfect crispness in his voice that really seems to draw the listener in.   The rock edge is in full effect here as Steven Bryan dives deeper into his straight rock side throughout this recording.   The rocked out performer that's been dying to come out and play has finally arrived on the new disc.   You will hear powerful & edgy vocals from beginning to end that will leave you wanting more.   You will get a brisk feel from Steven Bryan as they jam out their 10-song set.   But don't be mistaken because Bryan did not lose that sense of subtlety that shined through on Let Me Stay.   On this record, you still get plenty of meaningful songs with tons of pure feeling being poured out to the audience.   Bryan decides to keep his sincere vocal approach in place, which is displayed wonderfully on the tracks "Say Goodbye" and "Same Old Rhyme".   This talented artist chose to end the CD on a very deep note with the song "Elephants In The Sky".   This number really touches on some well-thought-out verses that truly impacts the listener on a higher level.   Here are some worthwhile lines from the song that stand out to me because the lyrics deserve a good listen & extreme thinking: "The elephants in the sky are tryin' to get high.   Wish that I could get away to the place that I belong."   If that doesn't make you stop in your tracks and think for a second then I don't know what will!  
One thing is for certain and that is that Steven Bryan has turned into a top-notch music artist who is not holding anything back now.   Not sure if he's aware or not, but Steven has found the place where he belongs in life and that is in the music world.   This artist was born to do this and you will hear exactly why when you take a listen to the new record.   Steven has come a long way from Italy, but I know that Mr. Bryan has much more to prove and a lot more to accomplish.   You haven't seen nothing yet from the man they call Steven Bryan; just get ready and prepare yourself because it's gonna be HUGE!   For more on this multi-talented singer/songwriter/musician/performer and his new project One Way, SKOPE out www.myspace.com/stevenbryanmusic.   Steven Bryan is bringin' nothin' but the goods on this new release and there is no stopping him!  
By Jimmy Rae (jrae23@comcast.net)
[Rating: 4.5/5]