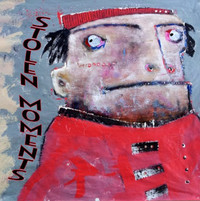 "Stolen Moments" is the eighth solo album for Rick Shaffer, as it would have it, he was inspired by the concept that there is no guarantee's or promise's in life, and every minute he has spent writing and recording is his precious time. That said, this album takes 10-tracks of pure rock n' roll mixed in with some garage rock to keep it humming loud and proud.
"All I Want", kicks things off for the album, as it breaks the fourth wall with pure rock aggression, that garage rock style breathing freely, as the guitar jerks, and drums flare, vocalization sucking it all in, with such a progressive force, it is pure aggression throughout. "Downtown Suzy", turns down the rock hard vibes with some mellow dramatics of tone, as the music is still rock based, but more tempo driven, being casual, sweet, and truly one to become a classic for him.
Stream + Buy: http://store.cdbaby.com/cd/rickshaffer9
"One in Five", is a lot like the previous track, except it has more piazza going for it. A lot of energy, angst, and adrenaline charging through. It provides more of an exposed feeling, as the song develops itself, into becoming one track that stands out. It has a lot going for it, lots of catchiness, upbeat tones, vocals being outspoken yet tight lipped with expression. Another one to absorb would be "Call My Name", as well as "Danger Awaits", both of which, consist of an edger tone, than the previous tracks mentioned. More of an in-your-face experience, that keeps the vocals and instrumentals on the brim, with you as the listener, on the brink of more.
Rick Shaffer as an artist, solo for that matter, does have its proper moments of appeal. Lots of rock hard momentum, with a great source of attitude and feeling towards the music. Like the way he was inspired by that concept of there not being no guarantee or promises in life, deal, that is all spoken right here upon this release. So much devotion and time was spent on these tracks, not just the one's mentioned here, but in general on this album, it is really apparent how much of that precious time he used to create such an album as this one. His past creations may be great sources of his works as well, but this release has got a lot going for it.
There is no other way to put it really. Rick Shaffer's "Stolen Moments", is just that, he has taken a lot of his moments, in his life, put them all to good use for this album and his past works too. Hence the title "Stolen Moments", goes hand in hand with the music and its meaning all at once. In short, the music consisted within this album, just packs a punch. If music in terms of rock or garage rock is to your liking then this album is for you. If not, then you will likely find something about his works, to get your grooves beating to the right tone, of his musical drift of conception.
By: Natalie Perez