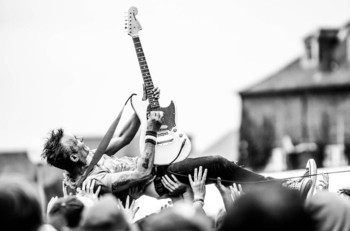 Grunge holds its roots in a multitude of musical sub-genre movements. From punk to hair bands to modern rock, grunge has evolved with the music into its very own way of life. Those who are part of the grunge band scene know that you have to play the part in all aspects, from the way you live to what you dress. The following are some of the ways you can represent your love of the music through wearable expression.
Classic Flannel Look
Flannel is something that never goes out of style in the grunge genre of music and wear. Some would even argue that it is a staple in any grungy wardrobe. There's something undeniably rustic about a flannel button-up long sleeve that appeals to a wide variety of artists who take influence from the grunge scene. It is a piece that was incorporated into grunge back in the '90's and has since hardly grown out of itself both on stage and when worn by fans. It's versatile and unisex. Someone from either gender can easily pair this up with a loose black or white tee or tank top for a carefree ensemble that goes great with any style of jean or denim shorts.
Destroyed Denim
Take a trip down to your local thrift store – the ultimate shop for finding grunge fashion treasures – and you will likely happen upon a multitude of different styled jeans, ripped and shredded in the knees and along the legs. This look hails way back when hair bands were a thing and it has been embraced from sub-cultures of all musical types since. Punk, grunge, hair rockers, alternative rock fans; ripped jeans is truly an addition to any music fan's wardrobe to help in the expression for the art.
Long Sleeve Layers
It's not enough that you gear up with classic ensembles. It's nice and all to look the part but you also want to keep in mind your own comfort while on stage. Long sleeve T-shirts, like those available from Over Under Clothing, are a necessary staple in any grunge band mate's wardrobe. If you're a fan of layering, you can wear three of your favorite shirts and end on the long sleeve t-shirt with a faded jacket over it, giving you that laid back impression while embodying the role.
Accessories Speak Volumes
So you got yourself a nice wardrobe put together but there's still something missing. Pair your flannel and long sleeve t-shirt with a comfy beanie to represent your favorite brand or movement and slip on some clunky combat boots for a true callback to the '90's grunge movement. Converse will also do the trick, if you're able to get your hands on the real deal nowadays.
If shopping for your duds at a thrift store isn't your cup of tea, then take the DIY route and rip up some of your own favorite pair that you've had for years and are fading away anyhow. As a band member, you'll likely want to pair your newly acquired article with something to compliment it. Men or women can match it up with an equally destroyed denim jacket. Female band mates might rip out the shoulders, for a bit of skin while performing, or go with the razor down the back look.