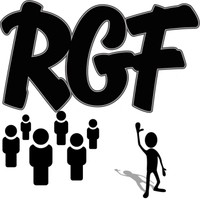 R.G.F. is an Alternative rock band they have been writing songs and playing music all over the Midwest for over twenty years and it really shows through in their talent. They have several talented guitarists. Scott on bass, Adam metal string acoustic guitar, and Barry on Metal guitar. Definitely a stellar drummer named Mark and excellent vocalist J Zun. I really love their work overall a great band although on some of their songs I think they could have used their creative talents to tweak it just to make the album a little bit better. Their newly released album which made its debut on June 15, 2017 is out and ready to do some heavy head banging. They have a number of up-coming shows they will be playing live. September 15, Wired at Omaha, NE. September 29th, at Prohibition Hall, Kansas City MO. October 28, at the Driftwood Charbar, Minneapolis, MN. November 04, at The Legendary Boobie Trap, Topeka, KS. If you love their music feel free to check them out.
On the positive note J Zun is a great vocalist I love his sound really puts a great edge on the music you can clearly hear. Scott on Bass absolutely talented it really comes through in his playing.
Adam on metal string acoustic guitar excellent rifts great sound love the work great sound. Mark on drums again awesome. Barry on metal guitar definitely could not have a great sound without a great metal guitarist. The mixing and the flow of the songs were well put together. What songs I really liked on this album. "Leavenworth" great lyrics had some great substance on the lyrics, edgy guitar riffs nice metal sound great drums, and excellent vocals. Great for a moment of screaming contemplation. "Psychic Drive" again great metal intro. Very intense song couldn't always make out the lyrics, but sometimes who cares about Lyrics when you just want to yell a lot. "Second City" Great metal guitar intro good lyrics great drums well put together song. Some great guitar riffs. Another great song. "Spanish Orange" metal guitar intro a bit made to sound off-beat, but again well put together song. Great metal guitar rifts and drums. Your all talented it really comes through in your music great job. This brings me to the not nice portion of this review.
CD BABY: https://store.cdbaby.com/cd/rgf
I love heavy metal rock. Just too much trying to over-reach on the edge can make something just fall off the edge. "Blue Angel" Although the vocals were good and the metal sound was great the lyrics were a bit more to be desired. The explicit lyrics would have alienated half the audience if it was female. Second song I thought missed the mark was "Tambourine girl" Heavy Metal intro great lyrics starting off then it ended with a slurry of F-bombs. Yes we get it your angry and pissed off I'm sure it's been done before. It gets old quickly. Would have been a good song if it weren't for the excessive profanity.
Overall great album just could definitely use some tweaking on two songs, but again anything can be made better so keep banging those heads away boys. Again this band is talented, I would love to see what you come up with in the future. Just keep your edge just don't fall off of it if you know what I mean.
Aura Stiers