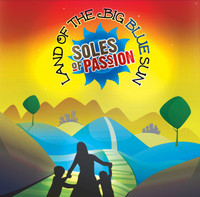 Soles Of Passion is a political country/rock band based out of Los Angeles, California. Their primary mission is to help victims of foreclosure, and to reinstate the real American Dream. The duo, comprised of Steven Wolfe and Myla Snow, have a unique sound and a specific goal, one that gives them the title of being a progressive band. They're releasing their latest EP called Land Of The Big Blue Sun very soon.
"Turned It All Around" feels like a song you'd hear in the late 80's, as opposed to a new release. It's the least country-sounding song on the EP, with the most explicitly political sound. It's about not falling for the nonsense corporate talking heads give you. I love the music and the lyrics for this song. Snow's voice is strongest in this track, as well.
"Land Of The Big Blue Sun" is a hopeful song about overcoming struggles and standing strong. This song is entirely country-sounding. It isn't bad, but it's pretty much just what I was expecting when I looked at the Soles Of Passion's website. Snow has a nice voice, but this song puts strain on her and it's very clear, so I can't quite get into it. The effort is there and I love the message.
With "It's So You" comes more rock vibes. I think this is my favorite song off of Land Of The Big Blue Sun. As you can tell by now, the band's aim is to be a supportive, encouraging presence in their fanbase's lives. I love the melody and Wolfe really shows off his skills. It's an all-around great song that still feels like it was written a few decades ago- normally, I wouldn't be as fond of that, but the point is that they're not forcing that quality, which makes it better. Soles Of Passion is genuine in all they do, and it's wonderful.
"I'm Beggin You Now" really feels like a fusion of country and rock, which is what I was hoping for when I first looked into the band. It's on the slower side, like the other songs, but it doesn't have the same kind of optimism that the other songs have. As the title suggests, Snow is quite literally begging someone to come back to her.
Overall, Soles Of Passion is an interesting band with a respectable mission. I greatly admire their efforts and I'm glad that they've been able to help people who are victims of foreclosure. I hope they're able to keep doing that in the future. Wolfe and Snow have a great sound that, while lacking in some areas, left me feeling pretty mellow and happy.
I would recommend Land Of The Big Blue Sun to people, and I would direct them to the band's site so they can see for themselves what Soles Of Passion stands for. They have a distinct sound that I can see a lot of listeners enjoying and I can't wait to see more from them in the future!
8/10
Victoria Patterson