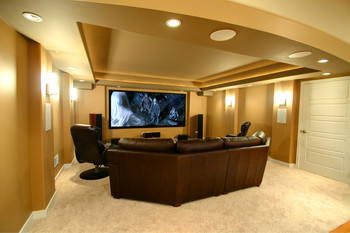 The basement finishing contractor you hire will determine how successful the project will be. Pick the right contractor and it'll be a stress-free, fun process. Hire the wrong one and it could be your worst nightmare. Here are four tips to use to make sure you get the most value for the investment you make in your basement.
1. Start by making a short list
Don't pick the first contractor you find after doing a Google search. Your chances of getting a good contractor that way are very low. Rather, create a short list of a three to four prospective contractors and interview them.
The list needs to be this short because it takes a lot of time to have meetings with each prospective contractor, tell them what you need to be done, review their proposal, etc. You need not spend too much time reviewing numerous proposals to get one that works for you.
The first step to making the short list is doing a Google search for basement finishing contractors in your area. Type basement finish contractors in [your city or state] into Google and hit search. Skip the paid ads and choose three or four of the companies listed in the organic results.
You could complement this with recommendations from your social circle, both online and in real life. If someone in your network might have had success with a basement finishing contractor, it could save you a lot of time looking for one yourself.
2. Don't make the mistake of hiring the cheapest
It's never wise to go for the cheapest contractor you can find, this will most likely leave you with a poor quality basement finish. You want to look for highly reputable basement finishing contractors then choose the one among them that offers the most affordable rates. That way, you're sure that you will get great-quality services.
3. Talk to the contractors current and previous clients
Have the prospective contractors give you a list of current and previous clients and give them a call. Don't limit yourself to the contractors' cherry picked list of favorite clients. Confident companies will have no problem with you to talking their clients. This would give you a good representation of how a company treats its customers now.
It would be unwise to assume that the experiences of a company's customers five years ago are the same. Contractors often have a high turnover of employees and sub-contractors for one reason or another, and this may affect the quality of service delivery either positively or negatively. The only way to find out is by talking to the company's current clients.
4. Forget estimates — get a fixed price proposal
A fixed price proposal is not the same thing as an estimate. An estimate is a ballpark figure for the cost of your basement finishing project. It's not the final figure. Many companies will give you a free estimate, but you need to be careful about those because they will typically lean on the lower side and aren't complete. Ask for a fixed price proposal to know how much you'll need to invest.