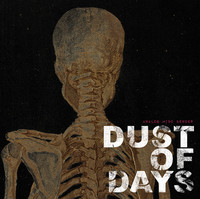 New Jersey based rock band, Dust of Days, is out with a new album called Analog Mind Bender- and from that album is the track "Heavy." The band is the result of drummer and songwriter Frank Lettieri Jr.'s musical therapy that has been producing great music since 2009. Guitarists Jim McGee and Mike Virok make up the remainder of the band.
Lettieri had lead a difficult life, full of personal hardships, that provides the base of Dust of Day's songs. The deeply personal place that the inspiration comes from is palpable in their music, and that is no different for "Heavy". The lyrics are simple but they carry the weight that was intended. The fact that the band went all the way to record the album at Pachyderm Recording Studios, where 23 years before Nirvana was there recording In-Utero, was a very cool anecdote. From there, the album was mastered by Bob Ludwig (known for working with talent such as Bruce Springsteen, Led Zepplin, Jimi Hendrix, and countless others).
Stream: https://dustofdays.bandcamp.com/track/heavy
The song isn't especially long at 2:46, but you barely even notice. McGee and Virok immediately show off their skills with impressive guitar work, as does Lettieri with his drumming. It has a great vibe and melody, one you can really get into. Dust of Days reminds me of a lot of well known groups, but the one that stands out, that I couldn't stop thinking of, is Breaking Benjamin. From the music to the vocals, there's a quality that they both share (and love) that kept the comparison fresh in my mind.
The lyrics don't play around- there's a righteous anger in them that feels viscerally genuine. The song is about not standing for one's lies and not letting yourself be stepped on by people who don't give a damn about you. There are some great lyrics in this song, despite it being so short. The opening lyrics are great- "Fragile lies won't stand for alibis." Another lyric that I adore is, "You tied the noose / now wait for the fall." It's solid and leaves me feeling invigorated and ready for anything. I feel like I can take on the injustices in the world and make the real-life villains regret everything they've done.
I feel like I haven't listened to bare bones, back to basics rock music in a long time. "Heavy" was a refreshing change that I couldn't get enough of, that reminded me of what I had been missing. It's easy to get lost in the countless sub genres in the rock family, which is where I was at. Mainstream alternative feels more pop than anything and nothing else feels like it carries the same weight as bands like Dust of Days.
I would recommend "Heavy" and Dust of Days to anyone who appreciates good, solid rock. While it's nothing groundbreaking in terms of music, it's still a solid song that I feel is worth listening to, along with the rest of Dust of Day's work. I'll be following their work from here on out and I look forward to listening to more of their stuff.
9/10
Victoria Patterson