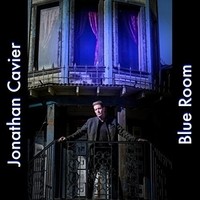 This is a distinctly different twist on what Jonathan Cavier has offered listeners in recent years. "Blue Room", the title track from his latest studio release, eschews the pop leanings of Cavier's earlier efforts in favor of a straight forward rock music attack that, nevertheless, retains immense accessibility. It has been a number of years since Cavier first came to popular notice as one half of the duo EyeTalk and the Phoenix based songwriter has garnered even greater attention since embarking in earnest on a solo career. Cavier could have taken a number of paths in life. He worked to earn a reputation as a talented tennis player and still pursues the sport as a hobby, but his true calling ended up being the music world. This newest single from Jonathan Cavier proves that conclusively and rocks out with abandon no one likely suspected him capable of mustering.
I-TUNES: https://itunes.apple.com/us/album/blue-room/id1224158520
An important component of the song is how warm vocal harmonies sweeten what might otherwise have come off as strident rock posturing. The harmonies are typically employed in the chorus and bridge, but there's a smattering of other occasions they come to the fore. There are numerous piercing lead guitar flourishes that come through as well and lend an added air of dramatic force to the composition, but the drumming and sturdy guitar chord crunch is the musical foundation that gives Cavier the platform he needs to get the lyrics over with his intended audience. The song runs a little over three minutes long, but there's never a sense that Cavier is attempting to take on too much with this outing. The uncluttered arrangement has plenty of power, but there's airiness to the performance as well that allows his vocal melody and the instruments breathe and move with fleet footed musicality.
The lyrics are a winning mix of specific and non-concrete imagery that surely allows Cavier to feel like he's fulfilling his own need for self-expression while still affording listeners an opportunity to arrive at interpretations germane to their own lives. Much like the musical arrangement, Cavier's lyric contributions never waste a single word and the lean economy helps further focus his message. His vocal, however, is the key. Cavier comes across as assured and personable in the same breath and brings a level of phrasing excellence to the performance that helps bring the lyrical content to life. This is a musical artist consistently engaged with his audience and artistic creations without ever divorcing the audience from sharing the experience depicted in song. "Blue Room" has power, melody, and exceptional craftsmanship in equal measure. Jonathan Cavier's development as a solo performer continues with all the surprises and thrills that anyone paying attention will recognize as one of Cavier's chief strengths and introduces potential new fans to his work with a track that may not be representative of his many stylistic turns, but remains quite illustrative of the powerhouse talent driving his career forward.
Jason Hillenburg