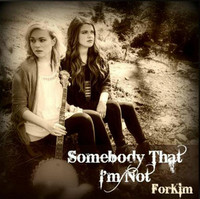 "Somebody That I'm Not" is the newest and latest addition to the catalog of releases for up and comer Ellen Thweatt. She originates from California then set her sights on heading out East making Tennessee her home base. Since her move she has gone on to educate herself, studying to pursue her love for music. Thus with that she studies vocal performance and commercial music as a university student out in good old Nashville, TN. But her studies is not she has spent time in, she has had the time to perform backup vocals for Carrie Underwood back in 2014 on the CMA Awards. Then for the 2014 CMA Christmas Showcase with Sara Evans. It does not stop there though for she has also been presented as a new and notable artist on NoiseTrade and is among the top 10 artists for ReverbNation's artists' in the Franklin Tennessee area. So that all of course says something or not does it not?
If not perhaps this will change your thoughts on Ellen, as she has also released more work than just this new song of hers. She released a debut EP "Halfway in the Clouds" along with another new single called "Your Cinderella", which was made into a video that has been gaining attention from all over the net. Outside of her music life that she loves, Ellen has enjoyed her time being spent outdoors, biking, hiking, swimming, spending a lot of time aside the ocean.
Anyway though back to her music, her newest and latest song in question "Somebody That I'm Not", takes her unique blend of style, bringing the mixture of pop, indie, and country, together to create such a well rounded song it beats out her old works hands down. The song expressing details about her not wanting to be someone she is not, is quite touching and very meaningful. Who has not felt this way when it comes to themselves. We have all had someone make suggestions about changing who we are, some take it into account, others do not change at all. While others go all the way, if not even beyond the mark to change for said people. When it comes down to this song and Ellen's meaning behind it. She is against it, saying how she will not be someone she is not and will only be her true self.
That meaning alone, really sets up this song even more. Lots of emotional feeling can be heard within her voice, the instrumentals behind her, bringing it altogether in such a crafty way it makes the song more available to the ear. It is really a song that has a nice tone, great meaning, and interesting beat that you can enjoy. Her soothing yet soft gentle vocal chords makes it all worth wild, yet nice and detailed to make the song more well sorted out.
All in all Ellen Thweatt's track "Somebody That I'm Not", is a piece of art, that can speak to many who have been there before. If not currently there already, it is one that just speaks the mind to all who hear it.
By: Natalie Perez