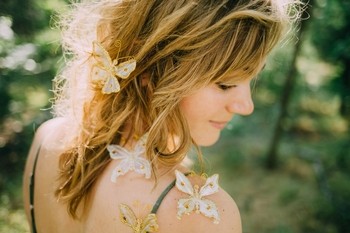 Ellen Thweatt an up and coming musician for some time now, decided that music would be her pursuer of choice. Over the course of time her studies and love for music continued to flower as she was, exposing her music through the expression of raw emotions to the listeners in tow. She hopes that her music will say "no one is alone is there journey in life". That in mind of course, she went on to write and record for her debut EP "Halfway in the Clouds" as well as release a number of singles "Your Cinderella", along with "Somebody That I'm Not". She soon hopes to release another EP but is stuck on the decision process for the time being. Thus, she has gone into account of addressing her life as a musician, and what it is all about.
NP: What do you like the most/least about being a musician?
I really enjoy being able to have a reason to write. When you are on a stage and are singing your heart, that's one of the best feelings in the world.
The hardest part is having your career be "up in the air" all the time. Your success really depends on how hard you are willing to work, what connections you have, and how much of your heart is in it.
NP: How have you achieved this career as a musician?
Right now, I still consider music as a hobby that I am trying to make into a career. It's not easy making money as a musician, and in the beginning, you put more money into it than you get out of it.
NP: What advice would you give to someone who wants to pursue this career as well?
I would tell them that they have to want to do it because they love it. If you are doing it for any other reason, you will be disappointed quickly. It can takes years for someone to actually feel like they have made a "career" out of their music.
NP: What are the typical mistakes people make when trying to pursue this career?
Some people (especially artists) spend more money than they need to initially with their music. There are a lot of people out there that can convince young artists that their producing/ video/ management will get them to the top. However, many of those people have very unreasonable rates and leave you with no money left to keep making music.
NP: If you had to do it all over again, would you still choose this career? Would you do anything differently?
I would still choose this. As hard as it gets sometimes, I know that if I had chosen something else, I would always be asking myself, "What if I pursued music??"
NP: It's common for musicians to be out of work for long periods of time. How can you supplement this time without work? How can you transition out of this period as quickly as possible?
It's best to work somewhere with flexibility. I currently work at Starbucks and teach music lessons. Both of those jobs and supplement me for a long period but can be easy to drop at almost last minute to pick up a gig.
NP: "Somebody That I'm Not" is your newest and latest track, which was not included on your debut EP, how come?
This track was originally recorded as a "duo" with my friend Taylor Cardiff. I entertained the idea of putting it on my EP, but the vibe is just so different from the rest of my EP that it would be too much of a misfit next to the rest of the tracks.
NP: Will we be seeing this track on an upcoming release, or will it remain a single for the time being only?
Possibly. Taylor and I have thought about re-recording it for a future project.
NP: What is the story behind that song "Somebody That I'm Not" can you disclose that for us?
Taylor and I wrote this on our first co-write together. We were laughing and talking about past exes and dates that made us feel like we were being pressured into being somebody that we weren't. We had a blast bouncing ideas off of that for the track.
NP: Why did you want to go forth and write a song such as this one, what does it mean and or represent for you?
This one was a little more edgy than my sentimental folk songs. That's pretty much my style of writing. Either sassy and thought provoking or sadder and poetic.
NP: The song mentions someone named "Kim" except it says "For Kim" who is this person?
Kim is our songwriting mentor. We named our temporary duo after her.
NP: Besides this song, do you have any other new music in the works that we can expect to see anytime soon?
I am currently working on songs to pitch to publishers, but am also deciding on my style. I want to be sure of what my audience enjoys the most and what I feel the best about before I record another EP (which will hopefully be soon).
NP: What do you have coming up for shows and or tours, anything in the works?
I perform in bars, songwriters nights, and house shows in Nashville. That's my focus right now. I'm hoping to branch out when I pick up my following a bit.
NP: Is there growth in this field? How do things generally look for new musicians entering the field.
New musicians have to remember that everything takes time and that you have to be willing to twist and turn with the new marketing and social media changes without "bending" out of what you believe in and what makes your own music special.
By: Natalie Perez