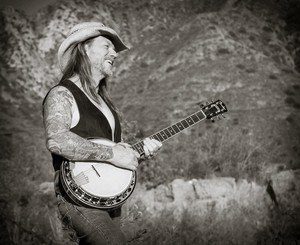 Terror Empire reveal new song"You'll Never See Us Coming"
Portuguese thrashers Terror Empire have just unveiled a new song off the new album "Obscurity Rising". The song is called "You'll Never See Us Coming" and it's the album opener, right after the intro. It's the third song to be released, after "Burn the Flags" and "Times of War".
"The lyrics are about a massive rebellion, a full-on take over of something by total surprise", says the lyricist for the song, Rui Alexandre. "You see, when things become stagnant, people in control tend to think it will remain like that forever. But if you keep pushing the wrong buttons with those you try to control, you've got another thing coming. This song's about that. Picture a village burning, a permanent state of unrest, full-blown-chaos."
THE DESERT 'JUST GET HIGH'
The Desert is a collaboration between singer-songwriter Gina Leonard and guitarist & producer Tom Fryer. Tom's atmospheric production style which plays with big spaces and other worldly sounds, lives in the space between Gina's honest and poetic lyrics, allowing her songs to shine that little bit brighter.
The pair first met at the Cambridge Folk Festival in 2014 where Gina played a set for The People's Front Room, a collective that Tom is a part of. Tom went on to record and produce a few of Gina's tracks, however it wasn't until late 2016 that The Desert officially came together to write and record their first collection of songs.
LEWIS CAPALDI PERFORM HIS NEW TRACK "LOST ON YOU" (LIVE)
"'Lost On You' is a tune about the realization that a relationship isn't salvageable or isn't going to work out, despite best efforts from both sides," says Capaldi. "The whole song kind of expresses the bittersweet feeling of ending things with someone you're really into, because you know they'll be better off with someone else."
Machine Gun Kelly "Go For Broke" Lyric Video
Fresh off his Lollapalooza performance, Machine Gun Kelly releases the lyric video to his single "Go For Broke" featuring the platinum recording artist James Arthur. "Go For Broke" is about the willingness and determination to bet it all on your dreams.
Me Like Bees Team with Image Comics in New Music Video
Comic book series The Realm has enlisted the musical services of Joplin, MO's indie pop darlings Me Like Bees to put together the soundtrack for the upcoming release. Today, we have the music video for the first of five singles "The River Divides" that premiered with Alternative Press and coincides with the comic's first issue being released on 9/13.
Motherhood Release New Single 'Save Me'
The shimmering, summery sounds of Liverpool indie outfit Motherhood are set to be unleashed once more with the release of their brand new single Save Me, fresh off the back of highly praised shows alongside fellow emerging Merseyside elite Paris Youth Foundation and Her's.
The four-piece, comprising of Evan Torrente (lead vocals, guitar), Dan Sullivan (lead guitar), Shea McChrystal (bass) and Ed Juniper (drums), are developing quite the reputation in their hometown and have already received early backing from the online community (The Line Of Best Fit, The 405, Dork).
NO SMALL CHILDREN ANNOUNCES DATES FOR SUMMER TOUR
No Small Children announces new dates for their summer 2017 tour. Fans will have the opportunity to see No Small Children's Lisa Pimentel (guitar and vocals), Joanie Pimentel (bass and vocals), and Nicola Berlinsky (drums) on tour performing live with their captivating music including their new song "RADIO." "RADIO" is an upbeat, fun, rock and infused pop punk song. "RADIO" is produced by the legendary Bob Marlette (Rob Zombie, Black Sabbath, and Filter).
Americana singer-songwriter Hope Dunbar to release "Three Black Crows" in October
Nebraska-based Americana-country-folk singer-songwriter Hope Dunbar is set to release her new album, Three Black Crows, on October 6, 2017. Produced by Emily White, the album was recorded at Little School Street Studio in Chicago, with Rachael Moore assuming mixing duties in Nashville. The album is a masterful overlay of gentle acoustic textures, emotional turbulence, and philosophical insight. Dunbar is a pioneer of the New American Prairie Style – the incarnation of Americana and country-folk that is staking claim under a big sky, shouting at the north wind, and digging in and refusing to leave.
"These songs are more honest than what I've done in the past," Dunbar says. "They're based on real-life people I see every day. In a small town, you get real close to your neighbors. You hear about moms and dads who lost a son you didn't even know they had because you weren't there when they died. Their loss will never go away but they're living with it. They keep going because they have to. If anybody needs a song, it's these people."
TANTAL New Video
TANTAL published new live multicam video from their last performance with Lacuna Coil in Moscow. The new album "Ruin" will be released in September 22nd in Europe and US at "Sleaszyrider Records".
COLD WAR KIDS PREMIERE THE VIDEO FOR NEW SINGLE "SO TIED UP"
Cold War Kids premiere the video for their new single "So Tied Up" featuring Bishop Briggs today on Vevo. Shot in Los Angeles, the comic noir clip was directed by Tota.