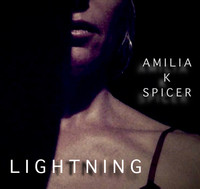 Amilia K. Spicer's album Wow and Flutter has received widespread acclaim as one of the most important studio releases in recent memory and the latest single from that effort, "Lightning", presents listeners with a distinctly different side of her musical personality than what her longtime or new admirers heard with her earlier single "Fill Me Up". Her voice, in many respects, is blues to its core, but she possesses an added dash of well-honed theatricality distinguishing her from many in the genre and an awesome manner of phrasing capable of drawing out all possible meaning from her lyrical content. Long since removed emotionally and spiritually from her native Pennsylvania, Spicer is writing and recording songs of rare beauty that have enormous commercial appeal while still obviously being dredged up from the bottom of her soul. "Lightning" is an extremely personal depiction of struggling with a timeless human emotion and Spicer owns it in a way few singers can.
URL: http://www.amiliakspicer.com/
It's evident from the first line onward. Spicer carefully navigates herself and listeners alike through the well-written lyrics and pays close attention to giving each word the weight it deserves. It isn't a lifeless performance, over-studied; instead, her decision to work mightily at conveying the song in the best possible light results in an already exceptional song being further enhanced. Her voice fills all the right places in the arrangement and has the steady soulfulness working its way into the song's fabric. There's a strong blues influence in her tone and how she approaches the words, but this track and others on Wow and Flutter demonstrate how she brings a variety of gifts to the table. She matches the musical intensity when the song hits its crescendos and adjusts accordingly with every musical turns the musicians make. Her vocal is satisfying in every respect and matches up very nicely with the obviously nuanced backing.
The music is primarily guided by drums and piano. There's some guitar making its presence felt at key points during the performance, but Spicer differs from many of her peers in her decision to not make the six string an arbitrary focal point for this song and Wow and Flutter as a whole. There's a warm sound coming from the overall recording, but the instruments are presented in a lush manner that envelops listeners in a warm, dream-like cloud. It's an ideal tempo they adopt for the song's slow-burn of want and it emphasizes the depth of emotion present behind the track's inspiration. "Lightning" is one of the best efforts on Spicer's album and will seem like a natural single from such an artist when you hear it. Amilia K. Spicer is a rare breed and her talents are just beginning to blossom. When she reaches the peak of her powers, she'll leave behind a substantial legacy and lives forever changed.
FACEBOOK: https://www.facebook.com/amiliakspicermusic
Michael Saulman