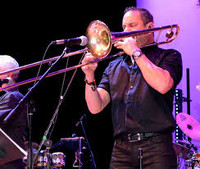 Behind every hit song is a team of talented writers, producers and studio musicians. One of them being Ozzie Melendez. He has worked behind the scenes with artists such as Jessica Simpson and Marc Anthony. Now he's switching gears and focusing on his own thing, a style of music that fuses together the ways of Jamaican dancehall, Salsa, Reggaeton and pop by way of his latest single "Camaleón."
Ozzie has performed all over the world as a vocalists, composer, director and trombonist on Broadway shows, commercials, and TV shows. All-of his work has put him on the top of the "must work with list" that has garnered him studio time with some of the biggest hitmakers of today.
With a lot of background behind him, this could cover his writing career alone. But as an artist, it's time he changed things up and gave it his best shot and "Camaleón" is the answer. This is a song recorded in both English and Spanish languages, so that both can enjoy it. If you like Salsa you will love what he's bringing with this, but it also has some adult-contemporary appeal to it. And I can't hear a huge difference in the values between the two languages, as it sounds more natural in Spanish. So, it works equally both ways, if even a tad better in Spanish than English.
URL: http://www.ozziemelendez.com/
Ozzie Mendez usually plays the trombone and handles the vocals, but this is guitar and percussion heavy, for the most part. It's very cerebral but then most Salsa music is, because it's made to dance to, more than anything else about it. He songs about coming together and having a good time with her. But even if you're not Spanish you can appreciate this, especially if you like artists like Ricky Martin and Marc Anthony. It's not for everyone, but it can be if widely enough exposed, because it's likeable and has an easy to remember melody throughout it. The vocals and overall vibe of the song is absolutely-jovial.
It's a long way from some of the work he's written for other artists, but I'm sure they'd all like it too and be proud of him coming out to record some tunes like this. But that's just an opinion from someone who's never even heard of him. I'm glad I did though, and there's a possibility that he could stick with me if he keeps this up. But I'm sure there is a following somewhere to tap into, concerning this single. Everyone has an audience somewhere, I'm just not familiar enough to point out where besides the Salsa music scene, of which I have only tripped in and out of over the years myself.
The overall point to be made is that this might be a new comer of the scene, but he's by no means a new comer to the music business, as a writer for the likes of people like Billy Joel and others in the past. That sort of makes him already a force to reckon with. And this track has no problem crossing over when efforts to make both versions help accomplish that much. It's vibrant, relevant and extremely uplifting, even if typical traditional sounding, especially to Salsa dancers and general listeners of Spanish and American adult-contemporary and world music forms.
INSTAGRAM: https://www.instagram.com/oz_melendez/
Larry Toering