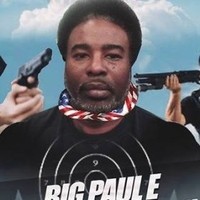 A former member of Menace to Society and Smoove Villains, Big Paul E has been around the block when it comes to the hip hop scene. In '95 he decided it was time for him to go solo and from then on out he's been churning out rhymes including 2010's SEEDS which will be re-released this coming year, and his current mixtape Kill the R.I.G.H.T. People. While his time spent as part of formative hip hop groups has given him the foundation to continue his career, it is the adversities that have shaped his willpower to succeed in life. He's overcome every curve ball thrown his way. "Bad Santa(explicit)" gets underway and it's over. You know it's going to be old skool all the way. And if you go back with Big Paul E or not, you can reckon with the force of his voice because that is what makes it so easy to process. Talk about "overcoming curveballs" it all comes full circle. I even laughed at the humor, it's only lightly explicit. This is a groovy rap with everything going for it. If you don't like it there's no going forward, so it all starts off excellent. Nothing to do but carry on with the rest of the situation. And that's what I did when I jammed on this mixtape.
I-TUNES: https://itunes.apple.com/us/artist/big-paul-e/id803059614
Next up is "The R.I.G.H.T. People" which comes on with a vengeance. The beats pop all over the place on this, with a hypnotic rap going behind the title repeating all the way through it. This is awesome, no questioning that from my perspective it is enormously satisfying. Don't worry about my enthusiasm, I'm basing it around the industry standard and going from there. Because being ranked #59 on Reverbnation is only a start for what is already a proven quality artist. It's not all roses these days for what should be getting much more support out there, even if it can be accessed at the touch of a button.
"Dig A Bigga Ditch feat June G.U.G.)" shows even more retro-rap muscle with a lot of low end behind another smooth set of rhymes about how the cookie crumbles. This is another force to reckon with, as it seems he can do no wrong thus far. Crank it up loud and clear, because it's produced well and should be heard by the masses, it's made for it. There is no setting this down if you're a rap fan, a hip hop fan or even just a fan of soul music, especially of the classic sort. But frankly it rips all over anything new, as well.
"Eye 4 n Eye – feat Khos Swissbodman(explicit)" tackles some more serious issues and nails them all the way, and this is where it stands up to anything going around today in the hip hop genre. The only thing wrong with this track is that is isn't long enough. It could use a few more minutes of pure repeat, it doesn't even need any more content added. "Wut Fool?" begins with the voice of Vincent Price before going into some bombastic poppin' beats with another killer rap. This is almost hardcore compared to some others on the mixtape, but nonetheless jamming. It makes Kill the R.I.G.H.T. People all the more worth checking out.
REVERBNATION: https://www.reverbnation.com/bigpaule
Larry Toering