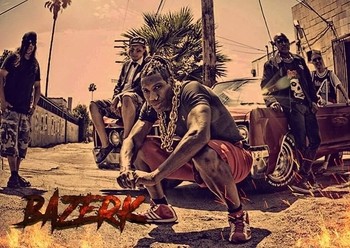 Sarantos Releases A New Dance Music Video For The Summer Song "PAuse"
Sarantos new pop dance music video "PAuse" encourages fans from all around the world to listen to their favorite song all summer long.
Summer is here in full bloom. Every single person on the planet has a favorite song, one they play repeatedly. Studies continue to analyze what makes a hit song a hit. A catchy chorus, infectious melody, inspired lyrics, timeless beats, the list goes on and on. To the human ear and mind, though, something just clicks. You just know it when you hear it, don't you?
Sarantos new dance/EDM song "PAuse" tackles this topic in a fun and unique way. So of course, shouldn't the new music video do the same thing?
Cartae 'Long Time'
Cartaé's new single 'Long Time' is more proof of the health of RnB from the UK's shores, with a beat that weaves in influences from 90s RnB, 80s pop, UK Garage and indie rock.
STONEHAM THEATRE BRINGS BROADWAY TO STONEHAM CHAMBER OF COMMERCE SUMMER CONCERT SERIES
In what has become one of the most popular music nights in the Stoneham Chamber of Commerce Summer Concert Series, the Stoneham Theatre will again will be presenting a special Broadway Cabaret Night featuring Stoneham Theatre and Boston-area favorites Jared Troilo, Aimee Doherty, Sean Mitchell Crosley, and Caitlyn Burns. They will be accompanied by a three-piece band led by Music Director Bethany Aiken. Featured songs will come from Broadway musicals and popular entertainment.
The evenings' featured nonprofit partners are the Stoneham ME Federal Credit Union and the Stoneham Senior Center, who will be there with their popcorn machine, while the Stoneham Theatre will add to the festivities with balloons for all.
The Stoneham Chamber of Commerce Summer Concert Series' programs will again feature a special coupon to enter a drawing from the Stoneham Theatre and like last year, the Stoneham Theatre is generously giving away two tickets to a Season 18 performance for EACH night of the Concert Series! So every Thursday, a winner will be drawn rather than just on the last night of the Series. Stop by the Concert for more details and to enter.
SIGUR RÓS RELEASE SHIRT IN SUPPORT OF MARRIAGE EQUALITY
Iceland's Sigur Rós return to Australia this July, performing at Splendour in The Grass festival in Byron Bay, and concerts at Sydney's Hordern Pavillion and Melbourne's Margaret Court Arena.
Having being made aware of recent comments by former tennis player Margaret Court, the band decided to commission a special shirt celebrating positivity and inclusion, with proceeds going towards Australian Marriage Equality.
The band approached London-based illustrator Andrew Rae to create a special crest. Says Andrew: "What an amazing commission, combining awareness about marriage equality with the amazing Sigur Rós in a hand drawn crest to raise money to support Australian Marriage Equality… of course I'm saying yes."
New York Pop Duo Big Hair Girls' Single "Future Is Female"
Big Hair Girls are a fearless chant-pop duo out of Jersey City made up of sisters Venus and Lizzy Lightyear. As Russian / Romanian / Surinamese / Caribbean kids growing up in the suburbs of New York City, the girls were clearly different and stuck out at a time when it meant everything to fit in. Being bullied throughout their school years, Lizzy and Venus realized their differences are what made them awesome and learned to stand up for themselves. From then on, they vowed to value their uniqueness and stop straightening their hair! Today, they hold onto that vow with their amazing, technicolor, and BIG hair!
Big Hair Girls started making music out of their bedroom studio and quickly became a staple of New York City's underground scene, where they could be found djing a circuit of clubs and LGBTQ parties; but, it wasn't until they met Donny Dykowsky that the girls created their signature sound. BHG make tropical, bounce-y pop anthems all inspired by themes of girl power, strength, unity, and unapologetic individuality.
Listen to "Fatigue" from SOAR
Today, Bay Area quartet SOAR is sharing their new single "Fatigue" which NPR Music calls "a brisk pop-punk track…reminiscent of Radiator Hospital or Chastity Belt in its surfy urgency."
Hidden Spheres 'It Ain't Easy'
After two hugely successful outings on Distant Hawaii, Hidden Spheres cruises into Lobster Theremin waters with four sun soaked and heart meltingly infectious slices of his trademark soothing and late night house.
EP opener 'It Ain't Easy' sets the mood in a deeply meditative style. Rolling and natural drum patterns intertwine with playful melodies and soothing vocals, slowly shifting the sand across the beach as the sun slides over the horizon.
Mined release new single 'Girl'
Mined release new single 'Girl' on July 7th through Peacefrog Records. Sparse electronic beats paired with Kofi Holmes Attivor aka Mined's smooth vocal. Its bareness indicative of its moving theme.
CHAD B. CURATES THE VIBE ON "LET'S GROOVE"
As Chad B. prepares for the release of his project, Ear Candy; he recently shared the visuals to the 2nd single, "Let's Groove", directed by Prime Prodigy Films. In the video we can see Chad as a frustrated worker, yearning for the chance to break free, and get in the groove. The single, which features "RnB God", Tyron Vasquez, is the perfect addition for your Friday night playlist.
FAIRCHILD Stream 'High As A Kite' Ahead Of Album Release
Gold Coast six-piece FAIRCHILD are proud to announce the release of their new single 'High As A Kite' from their upcoming debut album, So Long and Thankyou, produced and mixed by Catherine Marks (Foals, Wolf Alice). FAIRCHILD recently returned from a two-year stay in Manchester, UK, where they focused on performing, touring and finishing their record. Now they are home and ready to share their highs, lows and collective experience of what it means to make music with your friends.
Aadae shares new song 'Die Happy'
Die Happy, the first official single from hotly tipped singer Aadae, is a carnival of a song. A defiant call to arms, it is bubbling with afrobeat rhythms and pop hooks that take in influences stretching across decades and continents.
Growing up in Peckham, Aadae's strict Nigerian-Christian upbringing didn't leave much space for frivolous pursuits but when she wasn't holed up in church, she would rifle through her dad's record collection and sing with her brother and sister at home. "My mum was religiously strict," she explains, "But weirdly, and against Nigerian norms, she encouraged us in music. In her mind I think it acted as a distraction from gangs, gun and drug culture."
HUNDRED WATERS ANNOUNCE NEW ALBUM, SHARE "BLANKET ME"
LA-based trio Hundred Waters – comprised of vocalist Nicole Miglis, producer Trayer Tryon and drummer Zach Tetreault – have announced their long awaited new full length, Communicating, is set for a September 14 release via longtime label OWSLA. In conjunction with the announce the band has shared album single "Blanket Me,"a stirring piano-driven epic whose cathartic structure belies the leap in composition, performance, and confidence the band has undergone in the three years since 2014's critically lauded The Moon Rang Like a Bell. Communicating is a grand and ambitious album with an increased focus on songwriting that energizes more than ever before. At the same time it's more confidently experimental, unafraid to spike its pop hooks with noise, or build elaborate, fractal-like patterns out of Miglis's multitracked voice. The album follows the release of their recent Currency EP as well as organizing, curating, and performing at their fourth annual FORM Arcosanti festival.
Australian Producer Touch Sensitive Debuts Video For "Lay Down"
The video was created by Lost Art (The Avalanches, Love Deluxe, XL Recordings, Apple Music). Inspired by Prince's "Sign 'O The Times" video, it features over 100 scenes with a montage of different imagery and fonts reminiscent of 1980s and 1990s NTSC-style effects.
Touch Sensitive recently embarked on a North American tour, playing headline shows in Brooklyn and Los Angeles, as well as festival shows at Electric Forest, Summerfest and What The Festival. He also joined both Flume and Flight Facilities at Red Rocks Amphitheater, Belly Up Aspen and more.
Caleborate – "Make Me & Take Me"
A witty young rapper with an ebullient charisma, Caleborate is one of the most promising and lyrical emcees in the East Bay. Winding his flow around a ecstatic soul sample, complete with bouncy piano and soaring horns, Caleborate spins a treatise on the state of modern rap music on "Make Me & Take Me," listing his favorite emcees and speaking out against those who lack originality. A laid back and loose lyrical exercise (Caleborate takes a phone call from a friend early in the track) influenced by Lil Wayne's classic "Let The Beat Build," "Make Me & Take Me" finds Caleborate spitting three minutes worth of hookless bars, rhyming until the recording cuts him off mid-thought. "Make Me & Take Me" is the first new song by Caleborate since last month's release of "Produced By J. Cole, a tribute to the Dreamville MC who inspires him. "The song feels like what hip hop made me feel when I was a teenager," says Caleborate.
Dani Robert – 'Clouds'
Dani Robert is a 25-year-old singer-songwriter who lives in Toronto, Canada. She's originally from the farmlands of Pain Court, where she began developing what would become her own sound: a fusion of piano-based, alternative pop, and EDM.
At the young age of five, Dani began learning to play the piano. By the time she was seven, she was writing her own music, taking inspiration from personal experiences. Songwriting has always had a central place in her life. That passion led her to become a music therapist, helping people to express themselves through music.
Soft Fangs shares 'Elephant Girl' on Gold Flake Paint
Soft Fangs is happy to share with you his new single, taken from forthcoming sophomore album, 'Fractures' out 1st September on Disposable America. Gold Flake Paint premiered 'Elephant Girl' calling it "a gorgeous haze of a track, crafting a half-dream shadowiness that recalls Sparklehorse in his most linear form and balancing just the right amount of light and dark for the whole thing to fully intrigue as well as simply charm."
alt-J releases new video for "Deadcrush"
alt-J have released a new video for their track "Deadcrush" off of their new album RELAXER.
The video, premiering today via WeTransfer, was directed by visual artist Young Replicant and choreographed by Darcy Wallace.
"We are *very* proud to present the video for our new single Deadcrush, a collaboration between choreographer Darcy Wallace and director/dream weaver Young Replicant.
The video for the song, from the U.K. artist's debut album Careless People out now on Harvest Records, features a powerful performance by Tiler Peck, the prima ballerina and principal at New York City Ballet (NYCB). The soul-baring performance was shot in a single take by cinematographer Mark Wolf, who followed Peck around the dance floor with a handheld camera.
The Dead Milkmen Sign to The Giving Groove Label
Philanthropic record label The Giving Groove is pleased to announce the signing of Philly punk icons the Dead Milkmen to its roster.
For more nearly 35 years, the Milkmen have been happily skewering pop culture and confounding critics with their quirky brand of smart, satirical punk, and amassing a huge cult following with the hit singles "Bitchin' Camaro" and "Punk Rock Girl."
Teen Vice (featuring members of MEN, Making Friendz, The Dead Betties) share full stream
Teen Vice is a NYC based rock band consisting of Tammy Hart (guitars, vocals), Joshua Ackley (bass, vocals), May Dantas (guitars, vocals) and Derek Pippin (drums).
A live powerhouse, in its short existence Teen Vice has already received accolades in Impose (twice), Jezebel, Vice, Brooklyn Vegan, East Coast Rocker, and more recently premiered a video via Impose. Teen Vice's live debut was opening for punk legends Pansy Division, and the band will open in June for iconic Riot Grrrl band, The Red Aunts. The band's sound consists of Fleetwood Mac style melodies played with the ferociousness and passion of Live Through This era Hole.
Dan Luke And The Raid Announce Tour Dates With Declan McKenna
The band has also premiered the music video for their song "Black Cat Heavy Metal" via an Entertainment Weekly "Breaking Big" feature which highlights artists "topping the charts, going viral, and ruling our earbuds." EW says "Black Cat Heavy Metal" sounds "both retro and futuristic" and compares the Bowling Green, KY band to "The Beatles at their "Helter Skelter"-heaviest, early My Morning Jacket, [and] Pavement."
Breaking Big: Raucous Kentucky rockers Dan Luke & the Raid make good on their musical pedigree
THE COOL KIDS – "Checkout"
The Cool Kids are synonymous with timeless summertime hip-hop anthems that reverberate through Chicago and beyond, and this week they touch down with another. In "Checkout," Mikey and Chuck layout instant-classic cash raps, further proving The Cool Kids never really left.
Gold Fir release debut single
Following a first play from Triple J, the intriguing new London duo Gold Fir offer inclusive, whole-hearted grooves with the release of their new single 'Night Walk', out on +1 Records.
Simply known as James and Mabel, the pair's eccentric, soulful sound is known to be inspired by their favorite places, friends and films. This love for the latter led to a collaboration on the video with Jack Brown, a London based animator and director whose credits include Rejjie Snow. Their artistic vision is to celebrate the vibrancy and energy of nighttime, and they achieve this by seamlessly mixing 2D hand drawn animation with digitally filmed environments in their forthcoming video. A strong aesthetic is vital to Gold Fir's identity and positively reinforces the slick sonic production on 'Night Walk'.
Alan Vega "DTM" Music Video Out Now
Today, FADER Label announced the official music video for Alan Vega's track "DTM" off his posthumous album IT, due out this Friday, July 14th.
MIRACLE DRUG: "Grudge"
States MIRACLE DRUG vocalist Bricks Avalon of the new "Grudge" single, "The pain that eats away at the grudge holder is far more substantial than the incident, especially over time. I want to learn my lesson, to the point that I will never allow any trauma to live within my body and mind for so long. Especially that caused by a person who chose to hurt me."
Introducing Candice Gordon
Produced by labelmate A.S. Fanning, and mixed by Ingo Krauss (Swans, Iggy and the Stooges), the album was recorded in a country house in Ireland and at the legendary Funkhaus in Berlin. It presents a rich and brooding sonic landscape constructed using a variety of synthetic and natural instruments from Moogs to flutes, and Gordon even plays a one-string Kazakh instrument at times.
GOGOL BORDELLO Releases Single/Lyric Video "Walking On The Burning Coal"
Renowned gypsy punk band GOGOL BORDELLO has released the new single "Walking On The Burning Coal" from their upcoming seventh album SEEKERS AND FINDERS which comes out August 25 , 2017 via Cooking Vinyl. The song premiered on Consequence of Sound who characterized the song "as contemplative as it is emboldening, the verses finding Hütz examining a familiar wanderer's desire and the choruses demanding a challenge to be faced."
Gogol Bordello share new single "Walking on the Burning Coal": Stream
MAKEOUT Signs to Rise Records and Debuts Music Video for "Crazy"
Rise Records' latest sign MAKEOUT just dropped their new music video for "Crazy." The song is taken from their new album The Good Life, which will be released via Rise Records on September 29th.
Wilder Maker premiere new video on Spin
New York's Wilder Maker have shared their new video for the single "Only Child" off of their limited edition Saddle Creek Document 7″.
RAC releases new song "Unusual" featuring vocals from MNDR!
The song appears on RAC's highly anticipated new album EGO out this Friday, July 14 via Counter Records. Recorded between Anjos' home studio in Portland and sessions in Los Angeles, EGO features collaborations with Rivers Cuomo, Rostam, MNDR, St. Lucia, K. Flay and Joywave among others. EGO is Anjos' most ambitious, cohesive and personal work to date and chronicles his organic progression as an artist. "The word 'ego' can have a negative connotation, but I think of it as an exploration of self," he explains. "The album is really me figuring out what I personally wanted; I felt free to do whatever."
New Track from Wake Child
Wake Child began with a couple of friends playing music. Danny Silberstein and Terrell Hines were helping Austin Max rehearse for a class performance he had the following day. All three attended the prestigious Berklee College of Music.
Quindar's NASA-inspired, electronic 'Hip Mobility' streams in full at Stereogum
Quindar performs with a responsive video system which includes newly digitized 16mm film footage produced by aerospace corporations at the height of the Space Age. Using commercial, corporate, and government documentation of the everyday — and often banal —experience of living and working in space, Jorgensen and Thomas edit and transform these archival materials into discrete compositions that serve as templates for live improvisations in museums, galleries, theaters, and other venues. Quindar has worked since 2012 with the National Air and Space Museum, USC School of Cinematic Arts and The National Archives to digitize archival recordings and films created by NASA researchers during the 1960s and 70s.
DOWNTOWN BOYS DEBUTS NEW ALBUM TRACK "LIPS THAT BITE"
Downtown Boys will release their third album, Cost of Living, August 11 on Sub Pop. The Providence, RI band savagely stand their ground with the new album cut (and follow-up to the politically charged single "A Wall") "Lips That Bite," now available from the Adult Swim Singles Program via Stereogum.
Dan Wilson Releases "Someone Like You"
Today, Billboard premiered the official video for his version of "Someone Like You" ft. Kronos Quartet that he co-wrote with Adele, along with an interview about the new album.
PICTURE THIS RELEASE MUSIC VIDEO FOR "EVERYTHING I NEED"
Buzzing Irish duo Picture This, has released their music video for first album instant grat "Everything I Need". Watch HERE.
Pre-order today their self-titled full-length debut album, Picture This [Republic Records]—arriving August 25, 2017. Get it HERE. Check out the full tracklisting below.
Picture This will be stateside for their first U.S. headline tour this September.
Showoff Returns with New Record "Midwest Side Story" on September 22
Beloved Chicago pop-punk band Showoff is back in action with plans to release a new album this Fall.
Today the band is premiering a new song ("Popular Kid") off the forthcoming album "Midwest Side Story", exclusively on Alternative Press.
Empress Of Returns With "Go To Hell"
"(Go To Hell) takes heartbreak and anger and twists it into self-empowerment and pop gold. And it's so damn good." – The FADER
Adam Lambert Headlines Project Angel Food's 27th Annual Angel Awards, August 19, With George Michael Tribute
Project Angel Food is excited to host the 27th annual Angel Awards Gala at 6:00pm on Saturday, August 19, 2017 at 922 Vine Street, Los Angeles, CA 90038. This year's event holds a special significance, as it will posthumously honor the legendary performer George Michael, a dedicated friend, volunteer and supporter of the organization and to date, its largest individual donor. He will receive the Elizabeth Taylor Humanitarian Award, named for the iconic star, who was both a generous and loyal benefactor. Adam Lambert will perform a special musical tribute, including a selection of George Michael's most memorable songs.
George Michael was a special guardian presence for Project Angel Food, when the organization was going through its most trying times. In 1993 Project Angel Food persevered to feed the influx of AIDS patients who turned to them during the height of the epidemic. Struggling to make payroll while sacrificing internally for the good of the community, Project Angel Food received an unsolicited donation, placed on the organization's doorstep. Contained in an envelope was a check and note from George Michael, for the amount of $25,000. He would donate that same amount every year until his tragic passing in 2016.
Luke Rathborne Releases "Don't Call Me Baby"
Luke Rathborne announces today a release with Ribbon Music, the Brooklyn-by-way-of-Maine singer/songwriter who since moving to New York has garnered an impressive following through recent 2015 release Soft. Today, Rathborne has two new songs to share – "Don't Call Me Baby," an evocative pop tune, and "I Wish I Was A Bird," a dreamy ballad.
"I was lying my head in the hospital bed just before the room caught fire.." his newest song paints a picture vividly in the tradition of storytelling songwriters, and follows a singular tale of American people in love.
BETH DITTO KICKS OFF NORTH AMERICAN TOUR
Beth Ditto kicks off her North American tour tonight at U Street Music Hall in Washington, DC. The run includes two sold-out New York City dates – July 13 at the Bowery Ballroom and July 14 at Rough Trade in Brooklyn – and a sold-out show at The Independent in San Francisco on July 26.
Sun Kin shares expansive single, "Under Standing Waves"
"'Under Standing Waves' finds Oakland post-pop band Sun Kin in a deep trance state, riding a deep, funky groove over a cinematic 7th chord synth-scape. While the song was being written, Kabir's Nani (maternal grandmother) passed away suddenly from a stroke, and the song feels lit with her vivid passion and pride for making her loved ones feel loved, even thousands of miles away. Gentle, whispered vocals gradually grow into a falsetto-ed climax as the band seeks to return to the feeling of pure, unabashed devotion, the kind which transcends the selfishness of marketing and yet manifests itself in one line — 'Can you FaceTime?'"
ONE MASTER: Lycanthropic Burrowing Full-Length From Occult Black Metal Collective Streaming
Friday marks the official unveiling of Lycanthropic Burrowing, the latest full-length from occult black metal collective ONE MASTER. Set for release via Eternal Death Records, the rabid offering was recorded, mixed, and mastered by Will Killingsworth at Dead Air Studios, comes shrouded in the commanding artwork of Dave Fogg of Fog Palace, and delivers thirty-five unrepentant minutes of cursed and dismal fury.
Brooke Moriber Releases New EP "HERE AND GONE"
With the Summer in full swing, and having just released the single "99 Days of Rain" (which she recently performed LIVE at The Orchard NYC) singer/songwriter Brooke Moriber's newest EP "Here and Gone" is finally HERE!
Stream the debut LP from Lo Tom (Pedro the Lion & Starflyer 59 members) via Stereogum
Lo Tom is made up of David Bazan (Pedro the Lion), Trey Many (Velour 100, Starflyer 59), TW Walsh (Pedro the Lion, The Soft Drugs), and Jason Martin (Starflyer 59), friends who started playing music together when they were still pretty much kids.