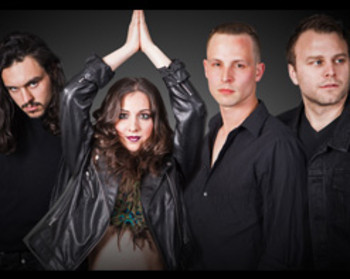 Jordan White grew up with her now bandmate Brian Dellis, but the two come from wildly different musical backgrounds. White performed in choir then earned her degree in Musical Theater learning to write and perform original songs at coffeehouses around Hollywood. Dellis's diverse lead guitar rifts, on the other hand, have been cultivated as member of popular local punk rock bands. After spending time in LA with her band performing at legendary clubs on the Sunset Strip, White returned to her roots in Phoenix creating the band, Jane N' The Jungle. Their sound is a mix of 90's alternative, Alanis Morissette and The Cranberries meet modern rock, like Florence And The Machine.
http://www.janenthejungle.com/
In October 2016, Jane N' The Jungle released their debut EP, and earlier this year, the Phoenix New Times named this rising star act one of "17 Metro Phoenix Bands to Watch in 2017." They have performed on 3TV, AZTV 7 and Fox 10. Their songs "Smoke & Dust" and "Open Road Blues" are currently featured in Honda prime time television commercials. Jane N' The Jungle's energy, sound and fan base has continued to grow with additions of bassist William Unkefer and drummer Davis Carpenter. With a solid line up and road ready for summer festivals, the alt-rock group can't wait to take the US and the world-by storm!
Jane N' The Jungle are no stranger to producing quality videos, and their latest clip for "Faded Stars" is truly stellar. Jordan is dressed in pure white as she sits against a white backdrop. She pours various colors of paint all over herself; colors collide and things get messy. But at the end, the paint is gone, and things are pristine once again.