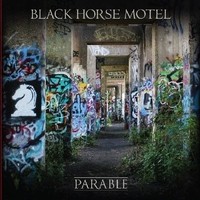 Black Horse Motel is a musical group from Philadelphia that bases its music on traditional folk. The band connects to audiences through its rich blend of country and rock music, stirring their souls with heart-wrenching harmonies. Parable is a culmination of the four years that have passed since the band's last release, Red Summer Spirit. Each members' individual experiences from marriage, divorce, moving to new houses and having children have contributed to this release. The emotions from these occurrences have been translated into the heart-wrenching music in Parable.
All through Parable, Black Horse Motel combines a mix of strings, percussion, and their intricate harmonies to produce tracks that would give The Outlaws and Charlie Daniels a run for their money. The emotive nature of their country music is sure to draw listeners immediately they press play on this EP. Musically, Parable allows listeners to be officially introduced to Black Horse Motel's unique style and sets the firm foundation for the band's brand. The top-quality of the songs on this EP sets the standard for the tracks that will follow.
Stream: https://blackhorsemotel.bandcamp.com/album/parable-2
First up on the playlist is Run, Rabbit, Run. Its notably high front and center vocals deftly move listeners' emotions from sad and reflective to calm throughout the stanzas. The song's depth is accentuated by a mix of string and percussion, adding a pump effect towards the end of the track. Also towards the song's end come in a subsequent set of vocals. These, coupled with the funky percussion beat in the final minute of the song help listeners leave their thoughts inspired by the lyrics and prepare for the next song. With consistent listening, Run, Rabbit, Run is a catchy song you could nod your head to a couple of times each day. Its ending gives fans excitement laced with emotion, helping them look forward to listening to the rest of the EP.
In Bones, Black Horse Motel takes a more traditional setting in terms of musical style. Their mix of instrumentals and lyrics, however, help the song have a modern touch and thus become relevant to today's era. The band slows things down on this song, taking on a lower tempo to provide a perfect setting for heart-wrenching lyrics. The results? Another hit from the musical group.
Where The Money Comes From is probably the song that gives you the best value for your money on this EP. Its production is elaborate, and each singer is undeniably composed. The dual vocals on this song coupled with on-point instrumentation make this song truly refreshing.
Take it Back comes in at fourth on this band's EP. Through the band's skillful instrument playing, they are able to give listeners both emotional highs and lows. The fact that this song is similar to an instrumental makes it ideal for when anyone needs to think or reflect. That said, how about listening to this song next time you head back home from work?
Dear Mama finally concludes our trip through this band's four-year musical journey since their last release. This song is not only alluring, but its unique blend of country, pop music, and rock help it gain a broad audience from people of different tastes. The strings on this song shine through the EP and make it a constant replay.
By Max Stone