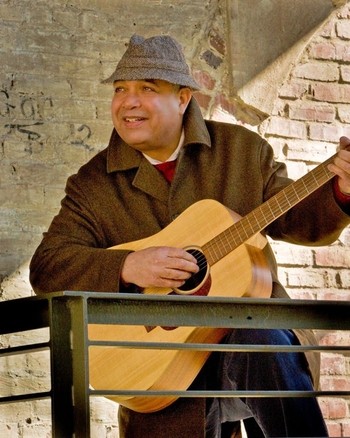 Billy Ray Deiz has got a style that makes you feel warm and fuzzy inside, and is downright easy to listen to. Over the span of his music career he has played with various artists, bands, and had his own works original and cover pieces be sorted out to the masses for all to hear. Billy has recently recorded some cover tunes with a release to back it up that will be out and about soon enough. He has since then taken the time to discuss his the types of songs he has covered, would like to cover, and what plans he has about playing some shows if not touring altogether.
NP: What led you to start writing music?
I started as a teenager, so I've been writing songs for more than 50 years! I started writing when my Uncles gave me my first guitar and taught me some basic chords and songs. I soon was playing a singing songs by Buddy Holly and Richie Valens and entertaining at parties. My first copyrighted song was Solamente Tres centavos. A love song in Spanish and English.
NP: Why go with calling this music project after yourself Billy Ray Deiz?
Actually I am releasing two singles from our upcoming compilation CD of "Favorites and Greatest Hits". These are two of my all-time favorite songs and I finally got around to recording them: Bridge Over Troubled Water and Angel from Montgomery.
NP: Billy Ray Deiz is your real name not your stage name correct? Why didn't you go with a stage name instead?
Billy Ray Deiz is my stage name. The "Ray" is in honor of Ray Charles who inspired me to sing when I saw him perform as a teenager. Later I interviewed him for CBS 2 News in Los Angeles.
NP: Who/what are your major influences (bands/artists/movies/etc)? What influences you?
I started out a Buddy Holly fan, moved on to Peter, Paul and Mary and then got the Soul bug with James Brown, Ike and Tina Turner and of course Ray Charles. also liked the Righteous Brothers and Bonnie Raitt. Still do!
NP: How would you describe the types of songs you write and or cover, what should people know about your craft at song writing?
I write all kinds, from pop to straight rock, soul, to folk. I love good music of all kinds. I have written and performed Soul, Country, pop, rock and everything in between.
NP: Speaking of songs, you have two new cover tracks one called "Angel from Montgomery" and "Bridge over Troubled Water". Both of which happen to be cover tracks. Why go the cover approach as opposed to writing your own original pieces of content?
I have been performing these songs for years and finally, this year, got the bug to record them. If you check out my website at www.freedomfyters.org you will see lots of my original songs; I also feel the world needs these versions of these songs right now.
NP: Will these cover tracks be included on an upcoming release i.e. EP or full-length album?
Yes: "Favorites and Greatest Hits"…a compilation CD featuring my originals that crowds love—like Daddy's Comin' Home– and these new covers.
NP: What can you disclose about that covers release, any idea on its release time frame?
Yes, I have confirmed with CD Baby that the singles will soon be for sale on iTunes and Amazon and CD Baby and other sites. I have mechanical licenses to sell both songs and hope to spark widespread interest in these songs.
NP: What are your views on the music industry nowadays?
The music industry has evolved into a Do It Yourself industry; you cannot rely on a major label to get your songs to the public, you have to do it yourself in a variety of ways, both live performances and promotion. We are back to the era of the troubadour who sings his songs to a rather limited audience. I am convinced, however, that there is a code to be cracked: Record great songs, promote them, drive the public to sites where they can be purchased, and, hopefully, reap the rewards.
NP: What do you think of downloading music or even others who may be downloading your own music?
It does not respect the artist to expect something for free. That's why I encourage digital downloads at .99 per on iTunes, etc. I'll also be on Spotify so folks can stream. But all artists need to be paid fairly for their art which takes years to develop properly. In my case, it took me decades to learn how to record my voice properly.
NP: What would be your ideal show or tour and why?
I am developing a new business model: a portion of all of my sales, from recordings and from shows will go to improve our world, such as by donations to Rotary International which is active in stamping out polio, or Medical Teams International which goes into crisis areas with needed medical support.
NP: Do you have a favorite song to play live? If so, what song?
Right now it is my song Rather Have Sooner which always gets the crowd moving; I also love to perform Angel From Montgomery and Bridge Over Troubled Water….as you probably can tell from my recordings.
NP: What's in the future for Billy Ray Deiz?
More recordings and more live performances and I hope a greater connection to my fans. I also am starting a new strategy for Europe that may involve Estonia. Stay tuned!
http://www.numberonemusic.com/billyraydeiz
By: Natalie Perez